Police Scotland 'operating as normal'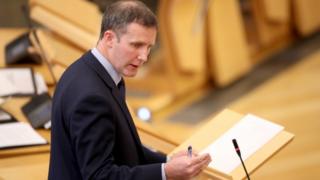 Scotland's justice secretary has insisted the country's police force is operating as normal despite the leadership crisis that has engulfed it.
Michael Matheson acknowledged that recent events at Police Scotland had caused "understandable concern".
But he said the public should still have confidence in the force, which he said was a match for any in the world.
Opposition MSPs accused Mr Matheson of complacency, and called on him to take responsibility.
Scotland's top police officer, Chief Constable Phil Gormley, was placed on "special leave" in September amid allegations of gross misconduct, including claims of bullying.
And on Friday, Assistant Chief Constable Bernard Higgins was one of four officers suspended pending investigations after "a number of criminal and misconduct allegations" were made.
They include a claim that the force firing range was used for unauthorised purposes.
Mr Higgins, who was the head of armed policing in Scotland, and Mr Gormley deny any wrongdoing.
As he updated Holyrood on the developments, Mr Matheson told MSPs that he could not comment on the ongoing investigations, and said speculation about them was "unhelpful".
He conceded that it was a "challenging set of circumstances" for the leadership team at Police Scotland, and that "no-one would wish to be in this particular situation with an officer suspended and a chief constable who is presently on extended leave".
Bu he said the force's command team had been strengthened by the appointment of two "ready and fully qualified" temporary assistant chief constables on Tuesday.
And he said measures had also been put in place to ensure that the operations and training of the force's firearms and counter terrorism units were unaffected.
Mr Matheson said: "Operational policing continues, and the public can have confidence in the police service."
He also dismissed any suggestion that the problems with the force's senior management team were evidence of poor performance across Police Scotland as a whole, pointing out that crime is currently at a 43-year low.
Mr Matheson said: "The creation of a single service has improved the ability of our police to respond quickly and effectively to serious crime, terrorism and other major incidents uninhibited by the previous force boundaries.
"It has delivered has delivered a scale of operational flexibility and specialism that was not possible under the legacy arrangements.
"And it continues to deliver an excellent local service to communities that I believe is the match of policing anywhere in the world."
Conservative justice spokesman Liam Kerr said the government was refusing to admit that the force was in a critical state, but paid tribute to the tireless work of ordinary officers.
And Labour MSP Claire Baker said it had been a "bad year for the leadership of Police Scotland".
Accusing Mr Matheson of complacency, she urged the justice secretary to take responsibility for what was happening on his watch.
However the Chief Inspector of Constabulary earlier insisted that there was "no crisis in policing in Scotland".
Derek Penman said he believed Police Scotland is "well-served by the many senior officers, team leaders and support staff managers who provide essential day-to-day leadership across the country".