Queensferry Crossing resurfacing work begins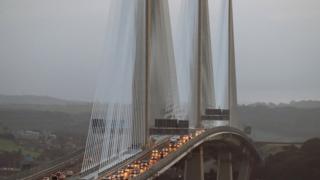 There were no major problems during the morning peak after the Queensferry Crossing has closed to southbound traffic for resurfacing work.
Motorists travelling towards Edinburgh from Fife have been diverted onto the Forth Road Bridge while 15 metres of tarmac on the crossing is replaced.
The work began at 22:00 on Thursday ends by 06:00 on Wednesday 6 December.
Nicola Sturgeon has said the work will be the only peak time closure on the bridge for so-called "snagging" work.
Speaking at First Minister's Questions, Ms Sturgeon said any further snagging work would be done at night.
During the resurfacing work traffic speeds will be limited to 40 mph on both bridges.
It emerged on Wednesday that the faults on the bridge were known about before it officially opened in September.
Transport Scotland officials told the Scottish Parliament's transport committee on Wednesday that the surfacing problems were caused by a workmanship error, and had been known about since August.
But they said it was only recently that a solution had been drawn up, and that the potential impact on road users was known.
The committee was also told that more lane restrictions could be expected on the crossing over the next 10 months.
The Queen officially opened the £1.35bn Queensferry Crossing on 4 September - exactly 53 years after she opened the Forth Road Bridge.