Writers use open letter to call for increase in arts funding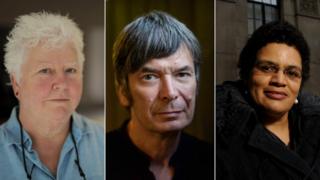 More than 100 writers have penned an open letter calling for an increase in funding for the arts and literature.
Ian Rankin and Val McDermid are among those who warn that further funding cuts risk damaging Scotland's "world-renowned literary heritage".
They said the forthcoming Scottish budget could have "major consequences for the future health of the nation".
A government spokesman said it was committed to supporting and protecting Scotland's culture.
The strongly-worded letter has been signed by Jackie Kay - Scotland's national poet, or makar - and Liz Lochhead, her predecessor in the role.
And the leading Scots novelists Irvine Welsh, Christopher Brookmyre, Ali Smith and Denise Mina have also endorsed the message.
In it, the writers say they have all benefited from Scotland's "long-standing commitment to making culture and arts accessible for all".
It adds: "Some of us have received grants to help us write our books, while others have benefited from training and mentoring schemes for emerging writers.
"Our entrepreneurial publishers and our much-loved libraries have received vital support to publish and distribute books as widely as possible, while Scotland's internationally-respected book festivals have achieved great things with small amounts of funding and have brought our work to worldwide attention."
They argue that they tour the world, talking about Scotland its culture at book festivals, and that their books attract tourists to landmarks they have read about.
They point to the internationally successful books - the Harry Potter series and Julia Donaldson's The Gruffalo - which were helped by Scotland's literary support system.
And they claim key works of non-fiction have helped "better understand Scotland and its place in the world today".
"With more public support, writers can encourage diversity, inclusion and literacy, not to mention boosting Scotland's economy," the letter adds.
In a final plea, the writers add: "Will future generations look back on the early 21st Century and lament the absence of the next Muriel Spark, the next Robert Louis Stevenson, the next Edwin Morgan?
"We can't be certain. But without support from the government, Scotland will surely damage one of its prize assets: its world-renowned literary heritage.
"What an irony we could be facing: a country which trumpets its First Minister's Reading Challenge on the one hand, but which cuts funding to new writers on the other."
A spokesman for the Scottish government said: "We are committed to supporting and protecting Scotland's culture and historic environment, to ensure our diverse and evolving culture scene and rich heritage continues to thrive.
"The finance secretary will set out the Scottish government's draft budget plans to parliament on 14 December."