Scotland, Ireland and Brexit: differences between differences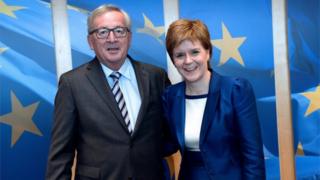 Ireland is different. But then so is Scotland. To what extent is there a difference in the extent to which these two distinct areas are differentiated?
We may be about to find out. And the answer on offer may play a big part in the future of political discourse: in Scotland, on the island of Ireland, across the UK and, more widely, across the EU.
Nicola Sturgeon, the first minister of Scotland, is acutely aware of the sensitivities which attend politics in Northern Ireland.
That is a given within politics in these islands and, further, is ingrained within devolved debate and, perhaps especially, in Scotland, given the historical and geographical links with Ireland, north and south.
And so Ms Sturgeon will tread carefully in responding to the prospect of a deal to obviate, in some way, the creation of a trading border between the Republic of Ireland and Northern Ireland.
She knows that the issue of Ireland, N&S, has been to the forefront of the early problems which have arisen from the Brexit negotiations. Given history, she also knows why.
That does not mean, however, that she will not argue for comparable treatment to be afforded to Scotland, should such a Northern Ireland eventually emerge in detail.
She has, indeed, already done so. As has Carwyn Jones in Wales, to underline the point that this is about governance, not solely about SNP or even Scottish politics.
It is somewhat reminiscent of the arguments which attended the debate over whether Northern Ireland should be granted power over corporation tax to enable it, in principle, to compete with the Republic.
Scotland, then, said "us too" - and would do so again. While, to emphasise once more, taking account of the distinctive circumstances in NI. In short, the search for continuing peace.
There is a further political question here. The Scottish government is currently embroiled in demanding concessions from the UK government with regard to the EU Withdrawal Bill.
As I reported last Thursday, Mike Russell, Scotland's Minister for mitigating Brexit, has continuing concerns beyond the 111 powers linked to devolved competence which are due to be returned from Brussels.
It is understandable, politically, for the Scottish government to draw attention to a potential Irish settlement. Not to cry foul, not to say in any way it should be thwarted. But to argue that a benefit available to one constituent part of the UK should, arguably, be extended elsewhere.
Intriguingly, from an entirely different standpoint, the DUP in Northern Ireland are also arguing for consistency.
They also - to underline, from an utterly different perspective - say there must be common treatment for the sundry parts of the UK. That is because they do not want an open land border with Ireland - if the consequence is a restricted sea border with Scotland and the rest of the UK.