MSPs clash over Scots income tax plans ahead of budget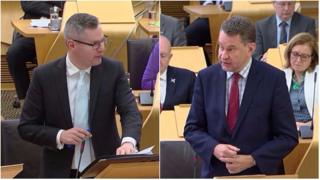 MSPs have clashed over income tax in Scotland on the eve of Finance Secretary Derek Mackay's draft budget.
A Tory-led debate at Holyrood served as a dress rehearsal for Thursday's announcement, which is expected to include increases in income tax.
The Conservatives sought to put pressure on Mr Mackay by quoting the SNP manifesto in the motion for debate.
However SNP members succeeded in amending the motion to one criticising UK government austerity policies.
The finance secretary will set out his draft budget plans in the Holyrood chamber on Thursday afternoon.
Income tax rises are widely expected, after First Minister Nicola Sturgeon suggested it could be time for those who earn the most to pay "a modest amount more" in order to protect public services.
The motion put forward by Conservative finance spokesman Murdo Fraser for Wednesday's debate called on the government to "freeze the basic rate of income tax throughout the current parliamentary session to protect those on low and middle incomes".
This mirrors the wording in the SNP's 2016 election manifesto, which saw the party returned as a minority government at Holyrood.
Mr Fraser said said 65% of those who voted in the 2016 Holyrood election had backed a manifesto opposing increases to the basic rate of income tax, describing those parties - the SNP and the Conservatives - as "the taxpayers' alliance of the Scottish Parliament".
He said: "The Fraser of Allander Institute has stated that if we could grow the Scottish economy by just half a per cent more than the UK average then over a decade it would have an extra £1 billion in tax revenue to spend. That is where the Scottish Government should be concentrating its efforts, not in increasing the tax burden on hard-working families."
'Impatient child'
Responding, Mr Mackay said Mr Fraser was "like an impatient child" - but said he would have to wait another day to find out what his tax plans were.
He told MSPs he would take "no lessons" from the Conservatives in light of Westminster austerity, calling them "the biggest threat to the economy in Scotland".
He said: "We want to protect and promote our public services. We also want to protect lower income earners. we want to use the tax system in a progressive fashion, and we also want to protect the economy."
"We'll put forward a credible proposition that inspires the people of Scotland."
SNP members for the most part refused to be drawn on what their tax plans might be, instead using their speeches to attack the Conservatives - although backbencher John Mason did say that "I think this year we can afford to be a bit bolder".
MSPs have previously backed the principle of raising income tax to fund investment in public services, although the vote on that occasion was driven by Labour, the Greens and Lib Dems after SNP members abstained.
New Labour leader Richard Leonard also attacked the Conservatives, saying it was "a bit rich" for them to portray themselves as "guardians of the working people".
He said Chancellor Philip Hammond was "continuing with the failed austerity agenda", but warned Mr Mackay that "you can't denounce austerity today, and then do nothing about it tomorrow".
The Scottish Greens, who backed the SNP's previous budget and are seen as a likely partner for the coming negotiations, hailed "progress" in the debate on tax. Co-convener Patrick Harvie said there was no way a budget could pass if all parties were to "dig in their heels to manifesto positions and are unable to work together".
Meanwhile the Scottish Lib Dems called for a "mature debate" about the future of public services, with leader Willie Rennie saying that if the public were aware what extra taxes were paying for they would support rises.
---
Analysis by BBC Scotland Political Editor Brian Taylor
The expectation is that the 20p rate will itself remain frozen. But that there may be a new tax band for those in the upper echelons of basic rate tax. That is, perhaps earning more than £30k or so. They could face a slightly higher imposition.
Mr Fraser was in no mood for subtlety. He reckoned that added up to a broken promise.
In response, the Finance Secretary Derek Mackay was comparably blunt - although not about his own tax plans. He advised members to await tomorrow's budget.
No, his frankness concerned the Conservatives. All they did, he reckoned, was demand higher spending on pet projects while simultaneously urging tax restraint.
---
Business groups including the Scottish Chambers of Commerce and the Federation of Small Businesses have voiced concerns about raising taxes, with the former warning that such a move could cause economic damage which "could take years to repair".
First Minister Nicola Sturgeon sought to reassure business leaders with her speech at the Scottish Economic Forum on Wednesday morning, stressing that economic growth would be the focus of the budget.
She said: "The ability to help people to contribute to the economy is central to our thinking. We know that we need to ensure taxes are competitive. But we also need to invest in the infrastructure, the research and development, and the capacity for innovation that this country will need in the future.
"That's the balance that we are looking to strike - in tomorrow's budget, and well into the future. The interests of businesses, and the importance of economic growth, have been central in every stage of our thinking and they will continue to be central as we implement the budget."
The budget was also mentioned at Westminster, with Scottish Conservative MP John Lamont calling on the Scottish government to "rule out higher taxes for hard-working Scots" - prompting Prime Minister Theresa May to call the budget "a very real test for the First Minister".