New 70mph speed introduced on Queensferry Crossing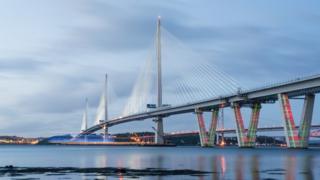 A new 70mph speed has been introduced on the Queensferry Crossing.
The speed limit was increased from 50mph in the early hours of the morning.
Resurfacing work that led to the partial closure of the £1.35bn bridge earlier this month has now been completed.
Transport Scotland said the road would assume full motorway status in the New Year. The Queen officially opened the bridge on 4 September.
The ceremony was exactly 53 years after she opened the Forth Road Bridge.
Congestion
Transport Minister Humza Yousaf, said: "It is pleasing to be able to deliver on our commitment to have a 70mph speed limit on the Queensferry Crossing before the end of December.
"All of the work that was required in order to make this move has been successfully completed.
"Since the initial study in 2007 the objective of this project has been to provide a replacement for the Forth Road Bridge.
"As such the Queensferry Crossing does not increase capacity over the Forth and we still expect congestion at peak times.
"We hope the move to a 70mph speed limit will assist the scheme in operating as it was designed and has a positive impact on overall journey times."