Broadcasting watchdog probes Alex Salmond Show tweets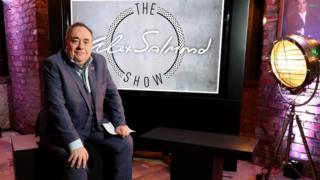 Broadcasting regulator Ofcom is investigating former First Minister Alex Salmond's chat show over claims it breached accuracy rules.
It is understood the complaint being probed is about tweets read out on the first edition of The Alex Salmond Show.
One transpired to have been posted by a director on the show, while others could not be found online at the time of broadcast.
A spokesman for the show said they were "confident of a satisfactory outcome".
The inaugural episode of the Alex Salmond Show, which is broadcast on Russian state-funded broadcaster RT, featured an interview with ousted Catalan President Carles Puigdemont.
It also included messages which Mr Salmond said had been selected from an "avalanche of tweets and emails", which were subsequently highlighted by the Herald newspaper.
One was labelled as being from a Twitter account which does not exist - something production company Slàinte Media said at the time was due to a "transcription error" in a misspelled username.
Another tweet was only published after the show had aired, which the company said had been emailed in and only posted publicly by the user concerned after he had seen it broadcast.
Slàinte Media said a further tweet from series director Luisa St John had been "used for the filmed rehearsal and left in the final programme cut in a simple error".
Ofcom said it was investigating a single complaint about "whether this programme breached our rules on due accuracy".
A spokesman for the production company, which is run by Mr Salmond and fellow former SNP MP Tasmina Ahmed-Sheikh, said they would be "happy to cooperate with the investigation" and were "confident of a satisfactory outcome".
He also pointed out that the Ofcom bulletin noting the investigation listed nine other ongoing probes, including one focusing on an edition of the Today programme on BBC Radio Four.
'Propaganda channel'
Mr Salmond's new programme provoked criticism when first announced, due to its association with the controversial Russian TV network.
RT, formerly known as Russia Today, as been forced to register as an "agent of the Russian state" by the US authorities, while Scottish Lib Dem leader Willie Rennie described it as "President Putin's propaganda channel".
Mr Salmond's successor as first minister, Nicola Sturgeon, said she would have "advised against RT and suggested he seek a different channel".
However, Mr Salmond has insisted he has full editorial control of the show, and RT itself has disputed suggestions that it is directed by the Russian government.
Alex Salmond was also defended by his former colleague John Swinney, who told MSPs there was a "stinking reek of hypocrisy" from opposition parties on the matter.