Scottish electoral reform proposals set out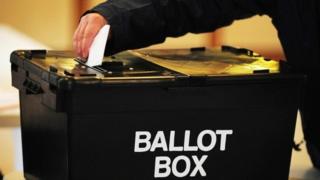 The Scottish government has set out a range of potential changes to how MSPs and councillors are elected.
A public consultation has been launched on proposals for widespread reform of Scotland's electoral systems.
These include term limits for Holyrood and councils, expanding the voting franchise to all residents and trying out "innovative" electronic voting.
Government business minister Joe Fitzpatrick said it was "a good time to think about modernising" the system.
Holyrood took on new powers over the running of elections under the 2016 Scotland Act.
Ministers believe these "open up new possibilities for democratic renewal and putting the voter first", and have put a range of potential changes out for public consultation.
Electronic voting
According to the consultation document, the Scottish government "plans to trial innovative electronic voting methods".
Votes could be cast either on electronic voting machines in polling stations - "similar to ticket machines at railway stations or supermarket automated checkouts" - or remotely, via home computers or mobile devices.
The consultation notes that online voting "could be more convenient for many voters" and could allow polls to be open for a longer period - but warned that "ensuring the security of internet voting and public confidence in it would be extremely important".
It also questions how long MSPs and councillors should serve once elected, suggesting that "it may be sensible to move all elections onto a five-year cycle".
Ministers also want to look at who is allowed to vote.
At present, British, Commonwealth and EU citizens who are resident in Scotland and are 16 or older are allowed to vote in Holyrood and council elections. This means people from Canada or Germany are allowed to vote for their local councillor or MSP, but people from America or Japan are not.
The paper argues that "it seems only just that everyone legally resident in Scotland should have voting rights", adding: "The Scottish government proposes to extend the franchise in Scottish parliament and local government elections."
However, ministers also propose removing a wrinkle in the current system which allows people who own properties in more than one local authority area to vote in the council elections in each of these areas. The paper proposes that for council polls, like Holyrood ones, "each voter should only be able to vote once".
Alphabetic anomaly
The consultation also sets out options for solving the problem of alphabetically-ordered ballot papers in local authority elections, which it has been claimed "heavily bias" the existing system.
Parties often stand more than one candidate in multi-member council wards, and when ballot papers are set out in alphabetical order those appearing higher up are elected more often than their party colleagues further down.
In the most recent Scottish council elections, BBC Scotland analysis found that where parties ran more than one candidate in a single ward, they were returned alphabetically in 78% of cases.
SNP MSP Kenneth Gibson has raised concerns about the issue repeatedly over the past 10 years, and said following May's vote that there was "clearly something wrong when one's surname can prove such a decisive factor in whether one is elected", adding that "the very credibility of the single transferrable vote system is at stake".
The government consultation sets out two potential solutions - one which would rotate the ordering of candidates on each individual ballot paper, and a simpler system which would order candidates from A to Z on half of ballot papers, and in reverse, from Z to A, on the other half.
The consultation paper said the second option "would be easier to explain to voters and would have less risk of voter confusion" than randomised papers.
The consultation will be open for three months, and the results will be used to "develop policy proposals that may be taken forward in future legislation".