MSPs back Scottish social security system in first vote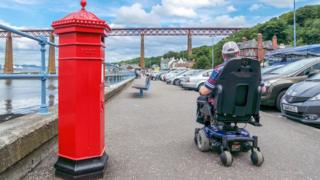 Legislation to set up a Scottish social security agency has passed its first hurdle at the Scottish Parliament.
MSPs unanimously agreed the general principles of the Social Security (Scotland) Bill.
The bill lays the foundations for the delivery of a range of benefits which are being devolved to Holyrood.
Social Security Minister Jeane Freeman said the bill was a "golden opportunity" to set up a better welfare system for Scotland.
The bill now moves on for consideration at committee level, before further votes in the Holyrood chamber later in 2018.
Holyrood is taking on responsibility for 11 social security powers, including disability living allowance, personal independence payments, carer's allowance and winter fuel payments.
The new social security agency will be have its headquarters in Dundee and Glasgow, with 1,500 jobs split across the two sites, and should be fully operational by 2021.
The handover of the various benefits is being staggered, with an increased carer's allowance to be the first to be administered from the summer of 2018 and others scheduled to follow in 2019.
'Golden opportunity'
Ms Freeman told MSPs the legislation was a "golden opportunity" to set up a system with "respect and dignity" at its heart.
She said the new agency would be "a new public service of which we can all be proud", which would "deliver for the people of Scotland".
Describing the current UK welfare system overseen by the Department for Work and Pensions as "opaque" and "incomprehensible at times", Ms Freeman said the bill would "provide clarity" about the foundations of the Scottish system.
The minister did acknowledge that there were areas where ministers could "explain ourselves better", saying she was "keen to have further dialogue" about aspects of the legislation before the committee stage of deliberation.
The legislation was backed by all opposition parties, although members voiced some concerns about parts of it.
Scottish Conservative MSP Adam Tomkins said that while his party supported social security devolution, the bill "absolutely must be amended" later in the legislative process.
He said the bill gives Scottish ministers "much more power than UK ministers have under reserved law", and "cuts parliament out of the picture to an unacceptable degree".
And he said the bill should include the power to create new benefits - although Ms Freeman said this power already exists under other legislation and does not need to be duplicated.
Labour's Mark Griffin said it was "vitally important" to get the legislation right, because "we only get one first go at this".
He said the bill had "failed to live up to some expectations", and said he looked forward to improving it at committee stage.
This was echoed by Green MSP Alison Johnstone, who also plans amendments to ensure devolved benefits increase at least in line with inflation.
Lib Dem MSP Alex Cole-Hamilton said the legislation was a "welcome coming of age" for Holyrood, but said it was "essential that we take smart decisions".