MSPs summon former police board chiefs over 'shocking mismanagement'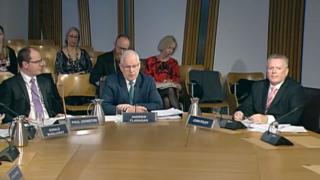 Former Scottish Police Authority bosses have been called to Holyrood to explain "shocking financial mismanagement".
MSPs want to quiz past and present management of the SPA, which oversees Police Scotland, about "eye-watering" payments and "astonishing" governance.
Holyrood's public audit committee were looking at the latest in a string of critical reports about the board.
Convener Jackie Baillie said the case was "probably the most shocking example" of mismanagement she had seen.
There have been a series of changes at the top of the SPA, including the resignation of chairman Andrew Flanagan amid a storm of criticism from MSPs.
He, along with former chief executive John Foley and current board members, have been called to "answer serious questions" about financial decisions which Ms Baillie described as "just extraordinarily shocking".
The SPA started 2017/18 with a predicted deficit of £47.2m. It currently forecasts deficits of £35.6m in 2018/19 and £15.9m in 2019/20.
'Rewarding failure'
Auditor General Caroline Gardner gave evidence to the committee about "unacceptable" governance and use of public money, although she said financial leadership had improved more recently.
She criticised decisions made by Mr Foley, who stood down from the organisation in November, such as his approval for £120,000 in relocation and tax expenses for a deputy chief constable and the appointment of three temporary staff at a cost of more than £334,000.
There was also criticism of Mr Foley's six-figure payoff on leaving the organisation, which included an early retirement payment of £43,470 and an additional three months of salary described as "unnecessary" by one auditor.
Ms Baillie asked if SPA board members had considered the option of dismissing Mr Foley outright for "incompetence", and also questioned if he should pay some of his settlement back, saying: "We don't want to see public bodies reward staff for failing."
There were also fiery exchanges at the committee between MSPs and Paul Johnston, the Scottish government's director general of education, communities and justice.
SNP MSP Alex Neil - named the committee MSP of the year in the most recent Scottish Politician of the Year awards - pursued the government official over a "strong rumour" that Mr Flanagan had wanted Chief Constable Phil Gormley reinstated.
Mr Gormley is currently on leave while a series of misconduct claims against him are investigated, but Mr Johnston confirmed that Mr Flanagan had been of the view that the chief constable should be reinstated.
When told that this was discussed at a private board meeting which appeared on no agenda, Mr Neil told the official that "you need to be a bit straighter", saying he didn't believe his claim that the outcome of the discussions had not been reported back to him.
Mr Johnston repeatedly said that the government's involvement was to "require that due process is followed" in the case of the chief constable, but Mr Neil said many of his answers were "frankly not credible".
The SNP MSP called for Mr Flanagan and other bosses to be called before the committee, a view subsequently echoed by Ms Baillie.
'Significant progress'
When he announced he was quitting the role, Mr Flanagan insisted he had made "significant progress on a number of fronts" during his time as chairman, including "changes to the governance process".
His replacement, Susan Deacon, said she was determined to address the issues highlighted by Audit Scotland.
She said: "It is vital that the public and parliament have confidence in the financial management of policing in Scotland.
"I share the auditors' concerns and I will work with the SPA board and the new chief officer to ensure we learn the lessons from that and that further improvements in decision-making, transparency and process are made in the future."