Matheson faces fresh questions over police chief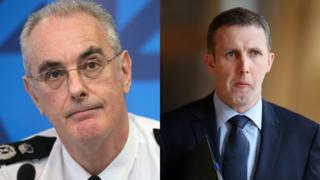 The justice secretary is facing fresh questions over this dealings with the chief constable of Police Scotland.
Opposition parties have asked Michael Matheson to provide details of all communications in relation to Phil Gormley's case.
Mr Gormley is currently on leave while allegations of gross misconduct, which he denies, are investigated.
The justice secretary has been accused of illegally blocking the chief constable's return to work.
It emerged last week that Mr Matheson asked police watchdogs to reconsider their decision to allow Mr Gormley to return to his duties.
The justice secretary told MSPs that to have let the Scottish Police Authority (SPA) implement the decision would have been "unacceptable" due to "clear deficiencies" in its decision-making process.
'Come clean'
It has now emerged that just days after Mr Gormley's lawyer raised concerns about the move, senior justice civil servant Paul Johnston met with the chief constable in Edinburgh.
Labour's justice spokesman Daniel Johnson said Mr Matheson should "come clean" on the Phil Gormley case.
He said: "The past year has shattered public confidence in the Scottish government's handling of policing.
"Full disclosure of the actions taken by Mr Matheson and his officials relating to the Gormley case would be a key step in rebuilding that trust."
He has written to Mr Matheson asking for "a full record of the interactions you and your officials have had with regard to Mr Gormley's employment status and the investigation into his conduct".
'Explain the omissions'
Scottish Liberal Democrat MSP Liam McArthur said the meeting between Mr Johnston and Mr Gormley should have been disclosed to MSPs.
"Michael Matheson needs to return to the Scottish Parliament to explain these omissions," he said.
A Scottish government spokeswoman said: "The Cabinet Secretary made a statement to parliament in which he clearly set out the reasons and circumstances around his intervention in November.
"This was followed up by a letter from the Director General Education, Communities and Justice to the Public Audit and Post-Legislative Scrutiny Committee on Friday, providing additional information."
Allegations against Mr Gormley first emerged in July 2017, when he confirmed he was the subject of a probe by the Police Investigations and Review Commissioner (Pirc). This concerned a complaint made by a superintendent in his private office.
He initially stayed on in his post, but went on "special leave" in September that year after a further allegation was made, and has remained off work while a series of other complaints emerged.