MSPs set for Brexit bill talks at House of Lords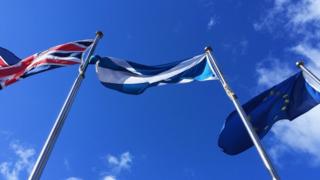 A cross-party group of MSPs is to have talks with MPs and peers at the House of Lords to avert a "constitutional crisis" over the EU Withdrawal Bill.
UK ministers have promised that amendments will be made to the Brexit legislation in the Lords.
The Scottish and Welsh governments say they will not put the bill forward for devolved consent votes as it stands.
Holyrood constitution convener Bruce Crawford said it was "vital" changes were made to protect devolution.
The UK government and the devolved administrations are at loggerheads over what will happen to powers which will come back from Brussels when the UK leaves the EU.
UK ministers had originally pledged to amend the disputed clauses in the legislation as it passed through the House of Commons, but after delays to agreeing the wording of amendments they now say this will have to wait until consideration in the House of Lords.
This has drawn strong criticism from the SNP, who term the current legislation a "Westminster power grab", while Scottish Conservative leader Ruth Davidson has called the delay "frustrating".
Both the Welsh and Scottish governments are working on their own stop-gap legislation should there be no resolution to the dispute and no consent votes passed.
Members from the Scottish and Welsh parliaments will attend a forum with MPs and peers at the House of Lords later on Thursday, in a meeting designed to give representatives the opportunity to discuss key issues ahead of the Withdrawal Bill entering the House of Lords.
Three SNP MSPs will be joined by two Scottish Conservative members and one from Scottish Labour.
Mr Crawford's constitution committee penned a report, endorsed by Scottish Conservative members, describing the current drafting of the Withdrawal Bill as "incompatible with devolution".
He said it was "hard to overstate our concern, indeed dismay, that the UK government did not amend the bill during its Commons passage", despite "a clear commitment to do so from UK ministers".
The SNP MSP added: "If a constitutional crisis is to be averted, it is vital that the UK government brings forward changes to the Bill that properly respect the devolution settlement."
Delegated powers committee convener Graham Simpson said his group was "strongly of the view that the Withdrawal Bill should be amended so that UK ministers can only legislate in devolved areas with the consent of devolved governments".
The Scottish Tory MSP added: "Ministers will have extraordinary powers to make laws under this bill, so it is vital that each of the UK's legislatures have the opportunity to scrutinise effectively regulations made under these highly unusual ministerial powers."