'No need' for Scottish bird flu measures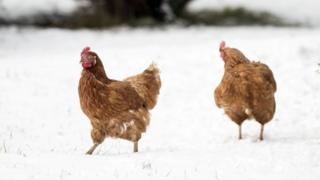 The Scottish government has said it will not be changing its status on bird flu despite a prevention zone being declared for the whole of England.
It comes after avian flu was found in wild birds in Dorset and Warwickshire.
The restrictions in England mean keepers have to follow strict biosecurity measures.
There have been no reported cases of avian flu in Scotland, but the Scottish government said it was monitoring the situation.
Its rural economy secretary, Fergus Ewing, said did not intend to implement a prevention zone in Scotland "at this stage".
He added: "Our approach is backed by expert advice that imposing controls on Scottish keepers would not substantially reduce the risk to domestic birds at this time.
"However, we will continue to monitor the situation across the rest of the UK and Europe closely and should circumstance change, then we will of course revisit all available options."
Veterinary advice
Mr Ewing reminded all bird keepers - whether major businesses or small flock keepers - to ensure their biosecurity is up to scratch, and to take all possible steps to prevent any contact between their birds and wild birds.
Keepers who are concerned about the health or welfare of their flock should seek veterinary advice immediately.
The prevention measures were extended across England after 13 dead wild birds in Warwickshire were confirmed to have the virus.
A local prevention zone was introduced in Dorset last week after 17 wild birds tested positive - with a total of 31 infected birds having now been identified at that site.
Experts have advised that the risk to public health remains very low, and the Food Standards Agency has said that bird flu does not pose a food safety risk for UK consumers.
Bird flu prevention measures were last introduced in Scotland in December 2016, before being lifted the following April.