FOI concerns raised with first minister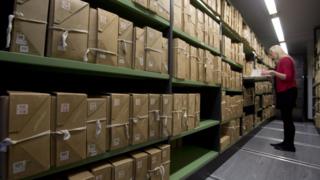 Nicola Sturgeon has been questioned at Holyrood on the Scottish government's handling of freedom of information (FOI) requests from journalists.
It follows claims that information is being withheld on political grounds by government ministers and special advisers.
The allegations are being examined by the country's information watchdog.
But Ms Sturgeon said the way the government deals with FOI requests was "entirely appropriate".
The issue was raised at first minister's questions by Labour's Rhoda Grant after journalist James McEnaney said documents were removed from an FOI release at the request of Deputy First Minister John Swinney and his special adviser.
'Holding back material'
Special advisers are political appointments rather than civil servants, so are not politically neutral.
Ms Grant said: "The first minister appears to be aware that her government and their special advisers are holding back material from FOIs that could cause them embarrassment.
"Does she therefore believe that saving their own blushes is more important than transparency, and indeed, the law?"
The first minister said FOI requests were handled in line with the legislation at all times.
She added: "FOI requests are handled by Scottish government officials, they seek comments from relevant parts of the Scottish government and consider whether ministerial clearance should be sought.
"That's entirely appropriate because the legal duty to comply with FOI legislation lies with Scottish Ministers."
Labour MSP Neil Findlay later raised a point of order in which he claimed special advisers are "routinely copied into and politically interfering in replies" to FOI emails.
He also claimed Mr Swinney was "caught ordering key documents to be withdrawn".
Scotland's information commissioner, Daren Fitzhenry, announced in November that he would probe concerns from a group of journalists about the Scottish government's handling of FOI requests.
In a new letter to the government which was published on his website on Thursday, Mr Fitzhenry gave more details of his intervention.
He said this would include the question of whether FOI requests from journalists are treated differently to those from the general public, the role of special advisers, and whether responses to information requests were being deliberately delayed, blocked or refused for "tenuous reasons".
Meanwhile, the Conservatives called for the government's parliamentary business minister to answer questions from MSPs over claims he may have misled parliament when questioned on the issue last summer.
'Routinely involved'
When asked in June whether requests were being screened for potential political damage by special advisers, Joe Fitzpatrick responded: "No, requests are all prepared by Scottish government officials.
"Special advisers have a role in assessing draft responses for accuracy."
Tory MSP Edward Mountain said: "We now know that the answers given by Mr Fitzpatrick to the Scottish Parliament are not true.
"The evidence suggests that special advisers are routinely involved in the freedom of information process for political purposes and John Swinney himself is suppressing documents when it suits him."
MSPs have previously unanimously condemned the government's performance on FOI requests and called for an independent inquiry.
Ministers have accepted that their performance has "not been good enough" and have pledged to make improvements.