MSPs' fury over 'insulting' Brexit papers reading room plan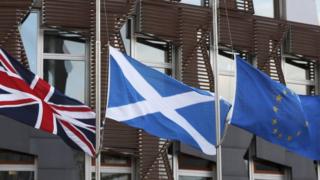 MSPs have voiced fury at arrangements which give them "extraordinarily limited" access to UK Brexit papers.
Brexit minister Robin Walker wrote to MSPs saying that analysis documents would be available in a "confidential reading room" at the Scotland Office.
But they were initially told it would be under supervision and by appointment in short blocks on Thursday and Friday.
Members said the move was "insulting", "an absolute nonsense" and showed "total contempt" for Holyrood.
Presiding Officer Ken Macintosh said he "fully understands" the concerns of members - some of whom claimed they were only allowed to see even-numbered pages of the documents - and urged UK ministers to "reflect" on the matter.
After this, a UK government spokeswoman said the reading room would remain open to MSPs over the coming weeks.
Parliamentary scrutiny
The "preliminary analysis" papers were submitted to Commons and Lords committees on Tuesday, and are being made available to MPs and MSPs in "confidential" reading rooms.
A letter from Mr Walker to Holyrood's presiding officer said the reading room at the Scotland Office would be available between 10:00 and 13:00, and 14:00 and 17:00 on Thursday and Friday.
However, MSPs pointed out that the Thursday hours clashed with committees and main chamber sitting hours, including first minister's questions, while members have responsibilities in their constituencies on Fridays.
Mr Walker also stressed that MSPs would have to book a viewing slot in advance, and said "there will be at least one UK government official in the reading room at all times".
He said: "We recognise the benefits of parliamentary scrutiny and hope that this approach will allow for members of the Scottish Parliament with a particular interest in aspects of the analysis to conduct their scrutiny whilst respecting the need to keep this information confidential."
Joan McAlpine, convener of Holyrood's Europe committee, said she was "incredulous and angry" to see the proposals, saying they showed "total contempt" for Holyrood.
Green MSP Ross Greer, another member of the committee, said the move was "beyond insulting", particularly given MSPs were given "less than 24 hours' notice".
He added: "Given the massive economic damage this analysis predicts, it's no surprise they're making it as difficult as possible for us to know any more than what has already been leaked."
And Labour's Brexit spokesman Neil Findlay said the move was "an absolute nonsense" which "takes no consideration of MSPs who have constituencies far from Edinburgh".
Scottish Brexit minister Mike Russell had previously said that he would publish the UK government's Brexit analysis if he was given it, saying the public "have a right to know".
He said ministers had "refused to accept a copy on condition of secrecy", and suggested the reading room was an "unsubtle response" to his pledge to publish the papers.
After Green co-convener Patrick Harvie raised a point of order about the "extraordinarily limited" provisions, Mr Macintosh said he "fully understands" concerns.
He said the arrangements "offer limited opportunity for scrutiny" of the papers, and said the late notice of their availability was "unhelpful", urging the UK government to "reflect" on this.
A UK government spokeswoman said the letter had made reference to the rooms being available "from" Thursday, saying they had "wanted to give MSPs the opportunity to view the document before recess".
She added: "If MSPs would like to return to review the document at any point, including after recess, they would be very welcome to do so".