Scottish Labour plan to tackle discrimination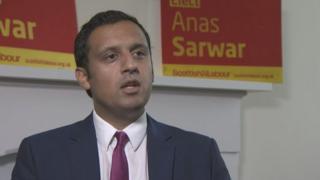 An MSP who was allegedly subject to racist comments from a colleague has described a plan by Labour to promote equality as "an important first step".
Anas Sarwar was responding to Scottish party leader Richard Leonard's plans to create an anti-discrimination and harassment policy for Labour.
The plan comes after two Scottish Labour politicians were challenged about their use of language.
However, opposition politicians have described Labour's response as "weak".
Labour MP Hugh Gaffney apologised for making offensive remarks at a Burns Supper last week.
The Coatbridge, Chryston and Bellshill MP had been attending a student event at Edinburgh University when he made a joke about Robert Burns not being "bent", and used a racist term when referring to a Chinese meal.
'Everyday racism'
Following the comments, Mr Gaffney was reprimanded and told to undergo equality and diversity training.
That incident followed claims by Glasgow MSP Anas Sarwar that he was told by a Labour councillor that Scottish voters were not ready for a "brown, Muslim Paki".
South Lanarkshire councillor Davie McLachlan has denied making the comments.
Scotland's Transport Minister Humza Yousaf said he had written to Scottish Labour Party leader Richard Leonard after he was approached by Labour Party members concerned at Labour's handling of the Hugh Gaffney remarks.
Speaking on the BBC's Sunday Politics Scotland programme, the SNP politician said he had been contacted by "many" of Mr Gaffney's colleagues who voiced concerns about the way the issue had been handled.
Mr Yousaf said Mr Leonard's failure to suspend the MP showed the party to be weak on the issue of diversity and he called for Mr Gaffney to consider his position.
"At the very least he should be suspended. That gives him time and opportunity to reflect on his actions, but more than that, I think he should seriously consider his position.
"If an MP used any other racial slur, then I don't think we would say that that person should be fit to hold office."
He added: "It is not just frustrating for those that are in politics, but for many many people who have approached me outside politics to say they are utterly dismayed at the lack of action from Richard Leonard on this."
Mr Yousaf said there had been inconsistencies in the way Mr Leonard had dealt with the two politicians at the centre of the recent controversies.
He added: "Hugh Gaffney admits making a racial slur - absolutely comparable to the remarks that were made to Anas Sarwar and yet all he gets is barely a tickle on the wrists.
"That kind of weak action from Richard Leonard is actually a slap in the face for every single ethnic minority in the country."
Labour executive
Among the proposals drawn up by Anas Sarwar was a call to reserve a place for ethnic minority candidates on the party's ruling Scottish Executive Committee.
Mr Sarwar also called for a return to protected places on candidates shortlists and more diversity on selection committees.
Scottish Labour said it had new plans to promote diversity and stamp out intolerance that would see the party's equalities and diversity sub-committee develop a comprehensive anti-discrimination and harassment policy.
Among the issues to be considered by the sub-committee will be the eight-point plan submitted by Anas Sarwar to challenge everyday racism.
They will also consider implementing the recommendations agreed by the Scottish executive committee on tackling sexual harassment.
Scottish Labour said an interim report would be developed by the sub-committee and brought to the Scottish Labour conference in March
'Actions not words'
Mr Sarwar welcomed the plan, but added: "This is an important first step forward for the Labour party in challenging everyday racism.
"The issue of racism and islamophobia goes beyond any one single political party and sadly is too prevalent in our society.
"The Labour party must take the lead on these issues, and establish a precedent for other political parties and Scottish society.
"Ultimately we will be judged by our actions, not our words."
Mr Leonard added: "Diversity enriches our political priorities and policy making.
"This is why I have made a commitment to invest in developing future candidates and activists who are women, BAME, LGBTI, people experiencing a disability, and other under-represented groups not just when there is an election, but all year round.
"Having led on positive action by introducing all women shortlists for the next round of parliamentary selections, my leadership will ensure that fair representation is finally achieved."