Mark McDonald MSP probe 'perhaps taking more time than it should'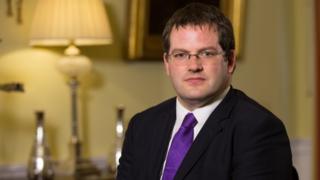 A Scottish government minister had admitted an investigation into allegations of inappropriate behaviour by an Aberdeen MSP is "perhaps taking more time than it should".
Mark McDonald resigned his ministerial position after admitting causing a woman "considerable distress".
He was suspended by the SNP after a second allegation came to light.
Transport Minister Humza Yousaf said he understood that constituents had questions.
Mr McDonald stood down as childcare minister in November.
He said he intended to stay on as an SNP MSP, but the party announced later that month he had been suspended after new information came to light.
It has been more than 100 days since the Aberdeen Donside MSP has been seen in Holyrood.
'Protecting any alleged victims'
During a visit to Aberdeen, Mr Yousaf told BBC Scotland: "When it comes to questions around Mark McDonald, around whether he's attending his constituency office, the fact that he's not been at Holyrood, these are all legitimate questions which people in the north east and Aberdeen understandably are asking.
"All I can say is that an investigation is taking place which obviously should also make sure it's protecting any alleged victims in this as well.
"And so therefore perhaps it's taking more time than it should."
He added: "I'm not close to the investigation, neither do I have discussions around the investigation."
Mr McDonald was not at his constituency office on Wednesday.
The SNP has said the investigation is continuing.
Mr McDonald referred to "inappropriate" previous actions when he announced his resignation in November.