Glasgow City Council agrees free school meals for P4 children
By Jamie McIvor
BBC Scotland local government correspondent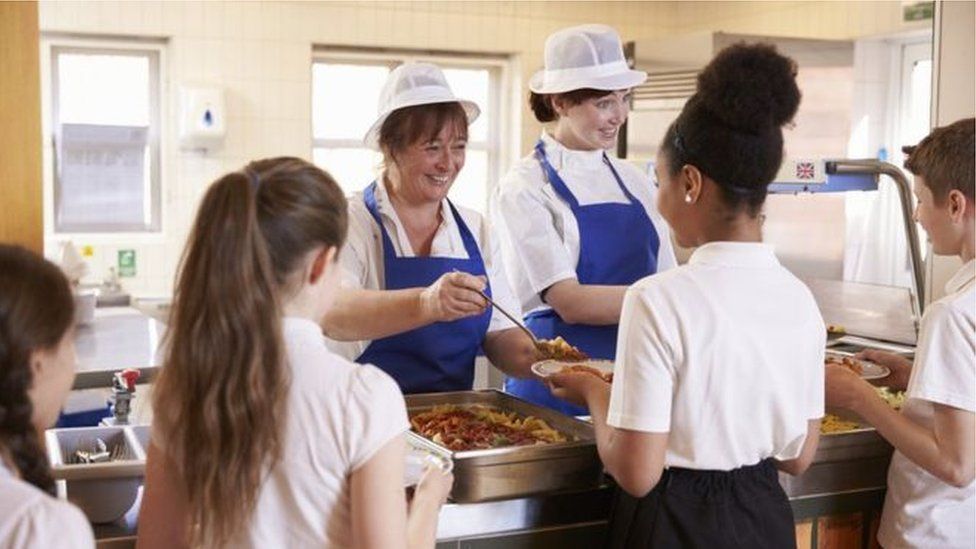 Scotland's largest council is to provide free school dinners for all children in Primary 4.
About 6,000 children in Glasgow will benefit af the current P3 limit is extended.
This the first time a Scottish council has looked at significantly extending automatic entitlement to free meals.
The proposal was agreed when Glasgow City Council, along with about a third of all Scottish councils, set its budget for the coming year.
Since 2015, all children in primaries 1, 2 and 3 have been entitled to a free meal - but after that, many have to start paying.
Supporters argue that providing free meals as widely as possible helps to ensure there is no stigma and can help a child's health and education.
Sceptics may question whether free meals for better-off children is the best use of scarce resources.
Glasgow does not currently plan to copy North Lanarkshire's initiative but is looking at providing meals during school holidays for those from low-income families.
Meanwhile, South Lanarkshire Council is to discuss an initiative which could help ensure all children entitled to free meals and school clothing grants receive them.
The council is to debate auto-enrolment so that parents of eligible children do not have to actively claim the free meals and grants.
The council believes there are several hundred children who are entitled to free school meals whose parents do not claim them.
It comes as about a third of Scotland's councils set their budgets for the coming year and the local council tax.
All were thought likely to agree to raise council tax by 3% - the most they can increase it under the funding deal with the Scottish government.
So far, no councils have indicated they are likely to freeze the council tax voluntarily - as some did last year.
It means many councils are not having to make the level of cuts and savings in the coming year that they had anticipated.