Use of electronic tags to be extended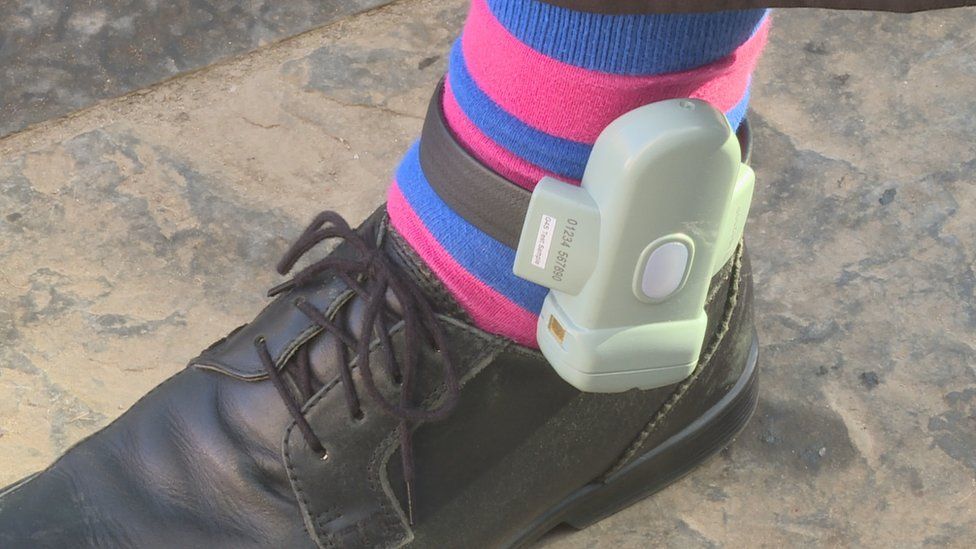 It has published legislation that would see new GPS monitoring technology used for the first time.
Electronic tags are currently only used to ensure offenders stay within their own home for certain periods of time.
But the new technology could be used to also ensure the tagged person does not enter specific locations.
This could prevent them approaching the homes of victims or witnesses, or areas where criminal associates are known to gather.
The proposal is part of wider changes which would also reduce the amount of time people will have to disclose certain convictions, to make it easier for them to get a job.
And the Scottish government said processes for the Parole Board would also be simplified and modernised if the Management of Offenders (Scotland) Bill is passed by Holyrood.
How do the new GPS tags work?
Electronic tags currently used by the Scottish justice system use radio frequency technology to ensure that offenders comply with a Home Detention Curfew.
These allow some prisoners, mainly on shorter sentences, to serve up to a quarter of their sentence on licence in the community, while wearing a tag.
The tags are used to ensure the offender remains in a particular place at a specified times - generally within their own home between 19:00 and 07:00.
But once they have left their home, the authorities have no way of knowing where they are.
The new electronic tags use GPS and GSM technology - similar to that used by mobiles phones - to track the position of the person wearing it in real time, with the information sent back to a monitoring centre.
This allows you to track them wherever they go - with the technology making it possible to designate "exclusion zones" that the offender is not allowed to enter.
If they do go into that zone, an alarm will immediately be sent from the device to the monitoring station, allowing the authorities to respond immediately.
What does the Scottish government say about the tags?
Justice Secretary Michael Matheson said the expansion of electronic tagging would help to reduce the risk of someone committing more offences in the community, as well as offering greater protection to victims.
He said: "It increases the options available to manage and monitor people serving their sentence in the community.
"Our justice reforms have delivered large reductions in reoffending and I am determined to build on the progress made.
"It's our duty to ensure victims see that people who are convicted of an offence are held to account, and they can be assured by the opportunities that electronic monitoring can offer, including in future the use of exclusion zones."
What other changes would the bill make?
The legislation will also dramatically reduce the period of time people convicted of more minor offences have to wait before they no longer need to disclose the conviction when applying for things like jobs, university or college places, insurance and bank accounts.
Currently, anyone sentenced to more than 30 months in prison must always disclose the conviction in the future.
Under the new proposals, the convictions of anyone sentenced to four years or less would become spent after a period of up to 10 years - meaning the conviction would no longer need to be disclosed.
The amount of time offenders must wait before their conviction becomes spent has also been reduced - for example from 10 years to only three years for someone sentenced to 12 months in prison.
Statistics suggest that over one-third of the adult male population and one-tenth of the adult female population in Scotland are likely to have at least one criminal conviction.
Mr Matheson said changes to the length of time people will have to disclose their convictions could make a "huge difference to those who genuinely want to turn their lives around".
He added: "Gaining employment is often crucial to enabling people to turn away from crime and make positive contributions to the their families, communities and the wider economy and society.
"This is a key part of breaking generational cycles of offending behaviour in order to reduce reoffending to help keep crime down and communities safe."
What does the opposition say?
The Scottish Conservatives said there was definitely a place for electronic tagging in the justice system, to ensure that the public is kept as safe as possible when criminals are released.
But the party's justice spokesman, Liam Kerr, warned that the technology should not be used as an "excuse to empty prison cells" by tagging criminals who would previously have been kept in jail.
He added: "With the sentencing of killer Robbie McIntosh this week, we saw the devastating consequences of a system that lets dangerous criminals walk out of jail too easily."