Scotland to set 50p minimum unit price for alcohol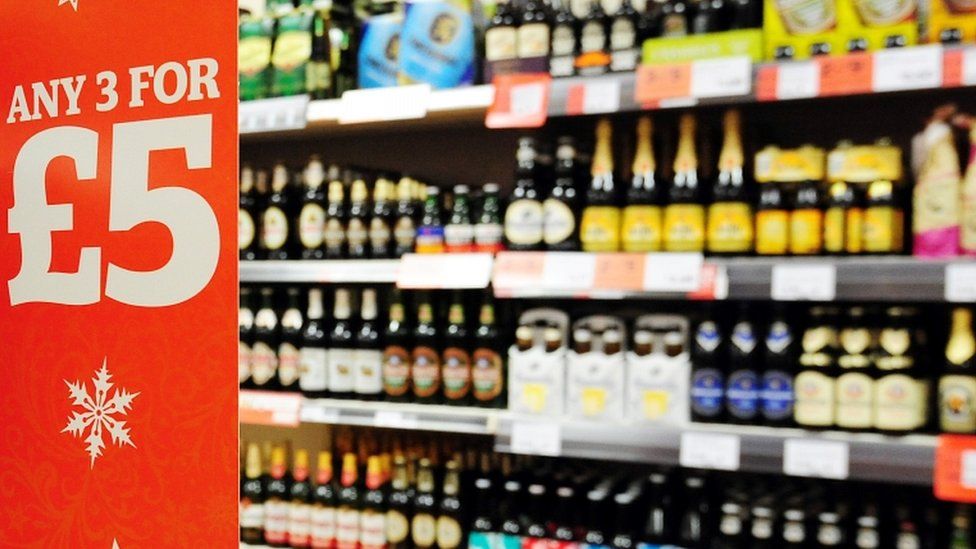 The Scottish government has recommended that the minimum price for a unit of alcohol should be set at 50p.
The minimum pricing scheme will come into force in May, after ministers won out in a lengthy legal battle.
Health Secretary Shona Robison said a consultation had backed the planned 50p unit price, which will go before MSPs at Holyrood before it comes into force.
Minimum pricing is designed to cut the intake of problem drinkers by raising the price of the strongest, cheapest alcohol, with the extra revenue going to retailers.
Alcohol Focus Scotland had found that super-strength cider and own-brand spirits could be bought for as little as 18p per unit.
A 50p minimum price was outlined in the original legislation, which was the first of its kind in the UK, and has now been endorsed via a public consultation.
This would raise the price of the cheapest bottle of red wine (9.4 units of alcohol) to £4.69, a four-pack of 500ml cans of 4% lager (8 units) would cost at least £4 and a 70cl bottle of whisky (28 units of alcohol) could not be sold for less than £14.
Normal strength cider (5% ABV) would cost at least £2.50 a litre but a super-strength version (7.5% ABV) would have to cost a minimum of £3.75 for a litre.
The Scotch Whisky Association had pursued a lengthy legal challenge to the legislation, claiming that an excise duty or tax would be an equally effective way of cutting problem drinking.
However judges at the Supreme Court in London rejected this, saying that minimum pricing was a "proportionate means of achieving a legitimate aim" and would target "the health hazards of cheap alcohol and the groups most affected in a way that an increase in excise or VAT does not".
Ms Robison said: "I am grateful to everyone who took the time to respond to the consultation on our proposed minimum price per unit of alcohol and I am happy to confirm that we will be moving forward with our recommendation of 50 pence.
"With alcohol on sale today in some places at just 16 pence per unit, we have to tackle the scourge of cheap, high-strength drink that causes so much damage to so many families. This move will save thousands of lives."
Opposition parties have raised some questions about aspects of the policy, with the Greens and Lib Dems calling for a 60p minimum price and Labour saying the cash raised should be "clawed back" by the state rather than retailers.
Related Internet Links
The BBC is not responsible for the content of external sites.