Scots-UK Brexit powers talks to be 'intensified'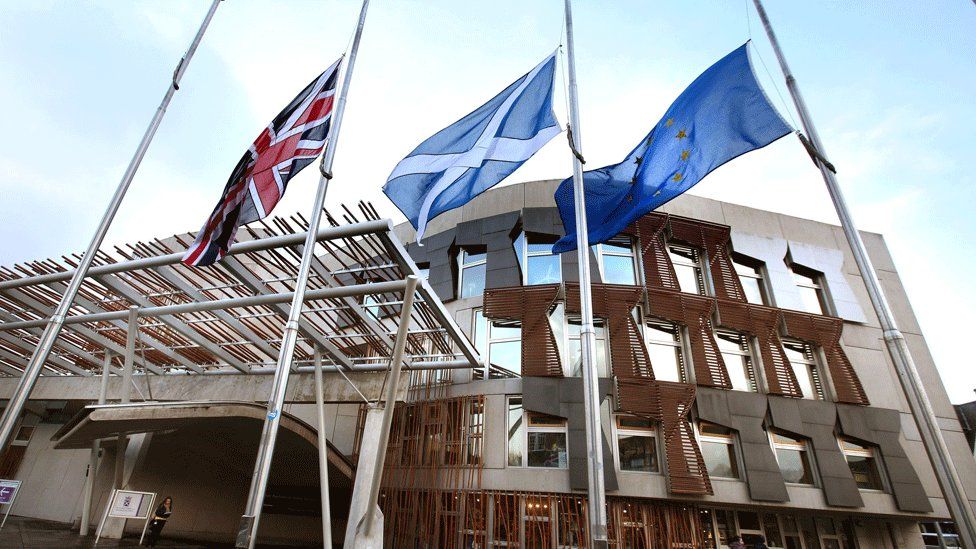 Talks between the UK and Scottish governments are to be "intensified" in a bid to strike a deal over Brexit.
Scottish ministers say they will not put UK Brexit legislation forward for a Holyrood consent vote unless a row over devolved powers can be settled.
Cabinet Office minister David Lidington said he hoped ministers could "bridge that final gap before too much longer".
However, Scottish Brexit minister Mike Russell accused the UK government of "using Brexit to try to take control of devolved powers without the agreement of the Scottish Parliament".
Further joint ministerial council (JMC) talks are expected later in the week, while the Scottish government is expected to publish its own stop-gap alternative to the EU Withdrawal Bill in the near future.
The two governments are at loggerheads over how powers which are currently not reserved to Westminster, but which are exercised from Brussels, are distributed after the UK leaves the EU.
The two sides agree that some of the powers should be incorporated into UK-wide frameworks, and it was recently agreed that "the vast majority" of them should head to the devolved parliaments in the first instance while these structures are worked out.
However, dispute remains over how some of the frameworks are set up, with UK ministers wanting final oversight over some of them - something their Scottish counterparts see as giving Westminster a "veto" over devolved competencies.
In a speech on Brexit and devolution, Mr Lidington said talks with the Scottish and Welsh administrations had been "very constructive" and said they would be "intensified" going forward.
He said: "I hope that we will bridge that final gap before too much longer. We are determined to respect the devolution settlements in their entirety."
Mr Lidington said the latest UK offer was that "while frameworks are being agreed, the presumption would now be that powers returning from the EU should sit at a devolved level".
He said that this meant "the vast majority of powers returning from Brussels will start off in Edinburgh, Cardiff and Belfast and not in Whitehall", before some are then incorporated into shared frameworks.
However, he added that in some crucial areas, if a consensus deal could not be struck then Westminster would still be able to take charge.
He said: "Our proposal offers an important protection. It ensures that were there not to be an agreement, and not having an agreement on a framework would put at risk the smooth and orderly exit that we all need, the UK parliament could protect the essential interests of businesses and consumers in every part of the kingdom."
Responding to the speech, Mr Russell said it was "totally unacceptable for the Tories to unilaterally rewrite the devolution settlement", adding that "ultimately the Tories' aim is to be able to push through policies that Scotland may not agree with".
He said: "However they try to dress this up, the reality is the UK government is using Brexit to try to take control of devolved powers without the agreement of the Scottish Parliament.
"We have always said we are not opposed to UK-wide arrangements on issues such as food labelling when they are in Scotland's interests - but the fundamental point of principle is that any changes to the powers of the Scottish Parliament, permanent or temporary, can only be made with the agreement of Holyrood.
"And it is only because Westminster wants to take control of devolved powers that there is any debate on this issue at all."
He said: "Powers over devolved policy areas currently exercised by the EU should go directly to the relevant devolved body after Brexit."
Meanwhile, the Scottish Liberal Democrats said that without amendments to the EU Withdrawal Bill on the table, Mr Lidington's speech was "just yet more noise to fill space".