Gove and Davidson in fisheries control call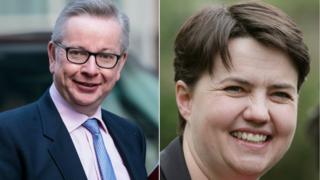 Ruth Davidson and Michael Gove have teamed up to call for the UK to leave the common fisheries policy (CFP) when Britain leaves the European Union.
The Scottish Conservative leader and UK environment secretary say it is "vital" that the country regains control over its own fisheries management.
It came as Scottish fishermen demanded the UK operated as a "fully-functioning coastal state" after leaving the EU.
The SNP warned the future of Scotland's fishing communities was "at risk".
Ministers in London could "trade away our valuable fishing rights" in Brexit negotiations to protect other sectors, Scotland's fisheries secretary Fergus Ewing added.
The UK government wants to agree reciprocal access to fishing waters with the EU.
In a joint statement, Ms Davidson and Mr Gove say: "We believe it is vital that we regain control over our own fisheries management.
"We want to use the opportunity of Brexit to secure a sustainable marine environment for the next generation.
"As proud Scots, we feel a particular debt to fishing communities who are looking to government to deliver a better deal for them. We agree we must deliver a fairer allocation for the British fleet in our own waters.
"As we leave the EU, we want the UK to become an independent coastal state, negotiating access annually with our neighbours. And during the implementation period we will ensure that British fishermen's interests are properly safeguarded."
The politicians were on opposing sides in the EU referendum campaign in 2016, but say they are united in their determination to ensure "Brexit delivers for Britain's fishing communities".
The statement continues: "The Prime Minister has been clear: Britain will leave the CFP as of March 2019. We both support her wholeheartedly.
"Whatever differences we had on Brexit, we both agree that our fishing industry stands to benefit from our departure from the common fisheries policy. We are both committed to doing all we can to make those benefits real."
The intervention follows the recent publication of draft guidelines for the EU side of Brexit trade talks, which seek "existing reciprocal access to fishing waters".
The politicians spoke out as the Scottish Fishermen's Federation (SFF) set out its "red lines" which the industry is warning the UK government not to cross in Brexit negotiations with the EU.
The SFF is demanding an immediate exit from the CFP in March 2019, "ensuring the EU does not have the right to grant access and set fishing opportunity and management rules within UK waters during the implementation period".
Chief executive Bertie Armstrong said: "In her Mansion House speech, the Prime Minister spoke of ensuring 'fairer shares' for our fishermen - that must mean an immediate end to the current situation in which EU vessels are entitled, gratis, to 60% of the fish in UK waters while our own vessels are allowed to catch just 40%."
The Scottish government called on UK ministers to "urgently explain" how their position on CFP would benefit Scottish fishermen.
Fergus Ewing said: "The UK government continues to put the future of Scotland's fishing communities at risk - no-one should be in any doubt that ministers in London are prepared to trade away our valuable fishing rights to protect sectors which are more important to them.
"The UK government's position will result in a situation where the UK could be forced to apply the rules of the Common Fisheries Policy after Brexit but would have no influence at all over fish quotas or access to Scottish waters.
"They must urgently explain how such a situation would be advantageous to Scottish fishermen in any way, shape or form."
A UK government spokesman said: "When we leave the European Union, we will leave the common fisheries policy and regain control of access to our waters.
"As part of a new economic partnership we want to continue to work with the EU to manage shared stocks in a sustainable way and to agree reciprocal access to waters and a fairer allocation of fishing opportunities for the UK fishing industry."