Brexit deal 'can be done' - Sturgeon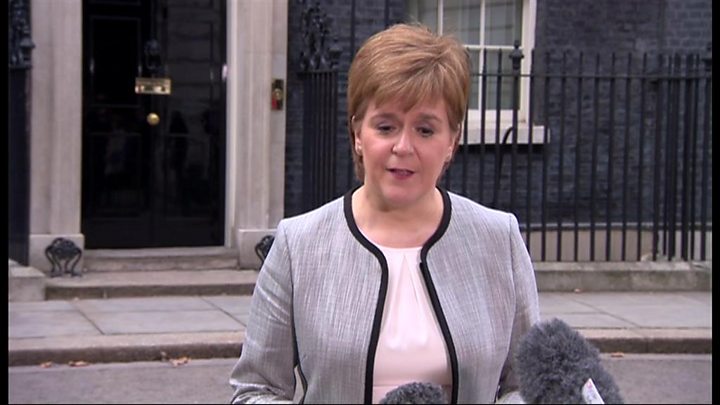 Nicola Sturgeon has said she believes the stalemate with the UK government over its Brexit bill can be resolved.
Scotland's first minister was speaking as she left talks with Prime Minister Theresa May in Downing Street.
The pair have been at loggerheads over what happens to powers in devolved areas when they return from Brussels after Brexit.
Ms Sturgeon said the differences between them were "not insignificant, but neither are they insurmountable".
She said there was a "determination" on both sides for an agreement to be reached in the coming weeks - although she stressed it was not yet certain a deal would be done.
The UK government recently proposed the "vast majority" of powers returned from the EU would go straight to Edinburgh, Cardiff and Belfast rather than to Westminster, as its Brexit bill had initially stated.
But it would retain control in 24 areas, at least in the short term.
It says this would be necessary to avoid different parts of the UK having different rules and regulations for things like food hygiene and health and safety when it leaves the EU.
But the Scottish and Welsh governments say that would in effect give Westminster a veto over some devolved responsibilities.
'Issue of principle'
Ms Sturgeon said the issue was a "very important issue of principle" for the Scottish government, as: "We can't have our powers restricted or reduced without the consent of the Scottish Parliament."
But she said: "I believe there are ways we can abide by that principle while still addressing some of the concerns of the UK government."
The first minister added: "I think a deal can be done. There is still some way to go, but there is a willingness, indeed a determination, to see if we can get there."
Welsh First Minister Carwyn Jones, who was also at the meeting, said he was "hopeful" a resolution would be found in the "next few days".
Speaking ahead of the meeting, the prime minister said she would be making clear her commitment to a deal that "brings our country together, protects the security and prosperity of all our communities and business sectors, and reinforces our Union of nations".
Mrs May added: "I am determined to secure a settlement that delivers an unprecedented democratic dividend for the people of Scotland, Wales and Northern Ireland, while protecting and preserving the precious Union that is at the heart of our past, present and future success."
What is the row about?
Whitehall analysis has identified 153 areas where policy in devolved areas is currently decided in Brussels.
The UK government's Brexit bill had initially proposed returning all of these to Westminster immediately after Brexit.
But it has recently put forward changes that would see the "vast majority" of those EU powers instead returning directly from Brussels to Edinburgh, Cardiff and Belfast.
This would include in areas such as carbon capture, water quality and energy efficiency.
But it has named 24 devolved policy areas where it wants to retain power temporarily in the wake of Britain's exit from the bloc, including in areas such as agriculture, fisheries, food labelling and public procurement.
The UK government says this is necessary to avoid different parts of the UK having different food hygiene or safety regulations.
But the Scottish and Welsh governments have repeatedly accused the UK government of a "power grab", and have introduced their own Brexit legislation in their respective parliaments.