Holyrood Brexit bill powers reined in by MSPs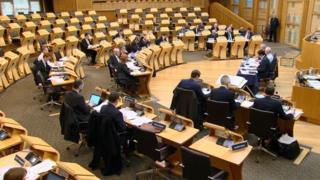 MSPs have agreed to rein in powers Scottish ministers would take on as part of the Brexit legislation being considered at Holyrood.
A Scottish bill has been tabled as an alternative to the Westminster EU Withdrawal Bill, amid an ongoing row over post-Brexit powers.
More than 230 possible amendments to the bill were considered by MSPs.
Many were rejected, but more than 20 were voted through in a bid to strengthen the legislation.
It eventually passed its stage 2 debate after a marathon 11-hour session.
The UK government and the devolved administrations in Edinburgh and Cardiff are at loggerheads over how powers currently exercised from Brussels are divided up when the UK leaves the EU in March 2019.
All sides have agreed that some devolved powers should be integrated into UK-wide frameworks, but there remains division over how these should be overseen.
UK ministers want to have the final say over powers in 24 areas which they see as being particularly important, whereas the devolved administrations want their explicit consent to be sought when changes are made in these areas.
Scotland's Brexit Bill
Key numbers
231
Amendments considered
12
Approximate hours of discussion
38 amendments accepted

54 amendments withdrawn

139 amendments rejected
PA
The Scottish and Welsh parliaments are now considering emergency legislation of their own, as a stop-gap measure should they ultimately not give consent to the EU Withdrawal Bill.
The general principles of the Holyrood bill were backed by all parties apart from the Conservatives. MSPs later examined more than 200 amendments.
The finance committee sat until 22:30 on Tuesday night and resumed at 08:00 on Wednesday morning, with a third meeting beginning at 18:30 to settle the last 76 proposed changes.
There has been dispute over the volume of amendments, with Green MSP Patrick Harvie claiming some were "mischievous" or "wrecking" amendments designed to hold up or derail the bill - a view echoed by a Scottish government spokesman, who said some of them are a lot less serious than others".
However Scottish Brexit minister Mike Russell said the bill "can be improved", and said he would "consider all suggestions".
Regulatory alignment
The most contentious section of the bill is one which would give ministers the power to "keep pace" with EU laws post-Brexit, to stay in line with European regulations even after the UK leaves the EU.
These powers are not included in the Westminster bill, and because the powers would be conferred on ministers rather than Holyrood itself opposition members have hit out at them as a "ministerial seizure" and a "power grab".
Mr Russell accepted that this was the "most controversial section of the bill", and said the "special powers" should be limited in scope.
However, he argued that it would be"absolutely vital" to maintain regulatory alignment with the EU post-Brexit, particularly in areas like environmental protection - something he said he was "absolutely determined" would not be watered down.
He has also stressed that while ministers will propose which regulations to "keep pace" with, it will ultimately be down to parliament to sign off on whether to do so.
The bill originally provided for the controversial powers to be available for up to 15 years - a five-year initial period followed by two possible extensions of the same length.
Mr Russell offered to strip this back by several years, but MSPs ultimately voted to go even further - to a three-year initial period followed by two possible one-year extensions.
This section of the bill ultimately passed, under protest from Conservative members.
Donald Cameron said that this section was a "striking political choice made by the government that goes well beyond the UK bill", arguing that "there is no need to keep pace with EU law if we are leaving the EU - there's no actual need for these powers".
Mr Russell told members that there would be "maximum scrutiny" of the use of powers, saying he was "not resisting the principle of restraints on ministerial powers" - but adding that Brexit was a "crisis" which ministers needed "sensible and practical" powers to deal with.