Mark McDonald returns to Holyrood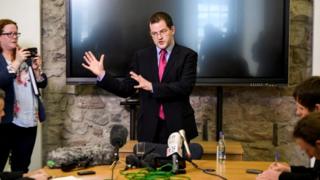 Most news conferences have a clearly defined purpose. The host will want to cajole or persuade or challenge or confront, via the watching media.
Today's event at Holyrood was of a different character. Mark McDonald made no effort whatsoever to tender new information. There was neither rhetoric nor bathos.
Rather, the content was the event itself. Not what was said, but the fact that Mr McDonald returned to Parliament at all after umpteen MSPs, including the first minister, had called upon him to quit.
Mark McDonald has now repeatedly apologised for what he accepts was inappropriate behaviour towards two women. His attitude is one of toned-down contrition, solemn and sorrowful, but contained.
We, the media, had crowded into Room Q1.03, in Parliament's historic Queensberry House. There was the usual desultory chat, accompanied by the bustle of camera crews getting their positions and fixing their mics.
Moments after 14:30, Mark McDonald strode into the room, grim-faced and initially silent. He paused, adjusted his stance, took a sip of water and delivered a recitation of events. The accusation, the resignation from government, the party investigation, the departure from the SNP.
And today, after all that, after each and every demand for him to go, the return to parliament as the independent MSP for Aberdeen Donside.
Invited to ask a question, I reminded Mr McDonald that Nicola Sturgeon and others had suggested that he should step down from Parliament altogether.
Were there any circumstances in which he would comply with that request or was he determined to see things through?
Mr McDonald did not answer my question, at least not in the terms deployed. Instead, he resorted to reciting his Vedic mantra: that he was seeking a second chance, that he posed no threat to women and that he sought only to serve his constituents.
Indeed, Mr McDonald only departed from this formula a little towards the end of media questioning. That was when he was reminded by Michael Blackley of the Mail that he had supported calls for MSP Bill Walker to quit (he was convicted for of domestic violence).
Pausing just momentarily, Mr McDonald said that Bill Walker had been prosecuted and found guilty. By contrast, he said that his offences had never resulted in police action.
Tom Gordon of the Herald persisted admirably with a demand for Mr McDonald to state, precisely, what he had done. What, for example, he had written in emails.
Mr McDonald sidestepped that, noting that the party had so far held back from full publication of their investigation into his behaviour. Mr Gordon retorted that he was no longer a member of the SNP. Mr McDonald conceded that point.
Then, for the continuing MSP, off to a meeting with parliamentary authorities who will explain what level of support he can expect. And then, presumably, back to his office. In the basement.