Denmark PM: fishing access 'high priority' in Brexit talks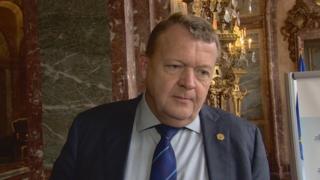 Denmark's prime minister has told BBC Scotland he will make access to North Sea waters a "high priority" during the next phase of Brexit talks.
Denmark's fishing industry relies heavily on catches off Scotland - and Lars Rasmussen says he wants a balanced deal, allowing access to continue.
The UK has said it wants to deliver full control of waters after Brexit.
However, ministers were forced to concede current arrangements will continue during a two-year transition.
This sparked fury among fishing leaders and pro-Brexit politicians, with some Scottish Conservative MPs saying they will not back the final Brexit deal if it does not deliver for fishing communities.
'High priority'
In Brussels, Mr Rasmussen told BBC Scotland he hoped access to the North Sea would continue to be guaranteed after 2020.
He said: "It is a priority for my country of course. I think it's like 30 to 40% of the total value in the Danish fisheries sector, which is caught on British waters. So this is of course a high priority.
"This is negotiation, we have to close a balanced deal."
Mr Rasmussen said UK red lines were making Brexit talks "very difficult", adding: "At the end of the day everybody has to move."
European fishing leaders have also told BBC Scotland they want to retain access on a similar level as they have now.
Scotland's longest serving Brussels politician, Labour MEP David Martin, said he did not expect big changes post-Brexit.
He said: "My own view is that the fishing industry will not be in different position - give or take a tweak here or a tweak there - it will be in no different position in five years time from where it is now.
"There will still the same number of boats in the North Sea."
Scottish Tory MEP Baroness Nosheena Mobarik said the prime minister should reject any attempt to make fishing part of any trade agreement.
She said: "There is no reason to give access to our waters. It's not part of a trade agreement."
'Complete betrayal'
SNP and Conservative politicians have been trading barbs over fishing since the terms of the transitional arrangement were set out on Monday.
First Minister Nicola Sturgeon told MSPs on Thursday that the Conservatives had committed a "complete betrayal" of fishing communities, referencing an article by Scottish Conservative leader Ruth Davidson and UK Environment Secretary Michael Gove urging the UK to leave the EU's Common Fisheries Policy.
Ms Sturgeon said: "Now we find out that the Scottish fishing community will still be governed by the CFP - and, to add insult to injury, there will be no votes around the table for it. It is utterly disgraceful."
This has been refuted by Mr Gove, who told MPs on Tuesday that the SNP had a "damn cheek" attacking UK ministers over fishing.
He said: "It is the stated policy of the Scottish National Party to stay in the European Union, to stay in the single market, to stay in the customs union and to stay in the common ​fisheries policy.
"The ones who are committed to giving Scottish fishermen, and indeed all fishermen across the United Kingdom, a brighter future by leaving the CFP are the Conservative party and this government."
A fresh row broke out after SNP MSP John Mason posted on Twitter that having to join the CFP would be a "red line deal-breaker" were an independent Scotland attempt to re-join the EU.