NFU Scotland reveals post-Brexit proposals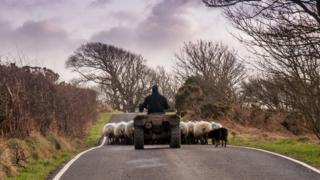 Reform of Scotland's farm support system after Brexit must be linked to the success or failure of international trade deals, according to NFU Scotland.
The farmers union has published its detailed proposals for a system to replace the Common Agricultural Policy.
It said a basic payment for farmers must remain for the short to medium term because of the unique challenges faced in Scotland's sector.
The document has been presented to Rural Economy Secretary Fergus Ewing.
It adds that a comprehensive set of trade deals could accelerate the speed of transition to a system based on environmental benefits rather than basic support.
The document, Steps to Change: A New Agricultural Policy for Scotland, suggests replacing the current "pillared payments" with a tiered system.
This would involve farmers receiving a basic "foundation" payment which is then topped up for those operating in less favoured areas such as crofters or hill farmers.
A third tier would be available for taking on environmental measures such as flood risk management and peatland restoration.
Need for change
NFU Scotland said the price tag would be broadly similar to the existing CAP but with the focus gradually shifting away from straightforward subsidies.
Vice President Martin Kennedy said: "We're about to face the biggest change agriculture has seen, not being part of the Common Agricultural Policy. It's absolutely essential we get this right because farming is a long term investment.
"The vast majority of our members realise that there does need to be a change. But that needs to be a managed change. It can't be a cliff edge, it can't be chaotic, because farming and crofting couldn't stand that particularly in Scotland.
Farmers in England are currently being consulted by their union on proposals published last month by Defra.
UK environment secretary Michael Gove said the focus would be on "public money for public goods".
The Scottish government is yet to produce anything similar.
Defra's proposals are broadly in line with NFU Scotland's document but the union in Scotland said there must be more emphasis on those working in "less favoured areas" (LFAs) which make up 85% of the farmed land.
In England, 17% of farmed land is less favoured.
'Clarity and certainty'
Only a strip of east coast, primarily the borders, Fife, Angus and Aberdeenshire, are regarded as prime agricultural land.
In a statement, Fergus Ewing voiced his concern at the "lack of certainty" for rural funding following the UK's exit from the EU.
The Scottish and UK governments disagree over plans to initially return some powers over agriculture to Westminster post-Brexit while ministers in London decide which frameworks should operate on the UK-wide basis.
Mr Ewing said: "The Scottish and Welsh governments have pressed for clarity and certainty on rural and marine funding at every Ministerial forum held since 2016. We have now written jointly to UK ministers setting out key questions for a new official-led group to consider and address relating to funding, and for that group to meet as soon as possible.
"We remain absolutely committed to a collaborative approach on key shared interests on rural and environmental matters. But we are becoming increasingly frustrated at UK ministers' failure to take that seriously.
"For example we have not been provided with copies of key documents of importance such as white paper on fisheries a draft fisheries bill and draft agriculture bill - nor have we even been advised when these and other documents will be available. We cannot be expected to make decisions on important matters without sight of all relevant documents."