Hare shooters invite Sturgeon to estates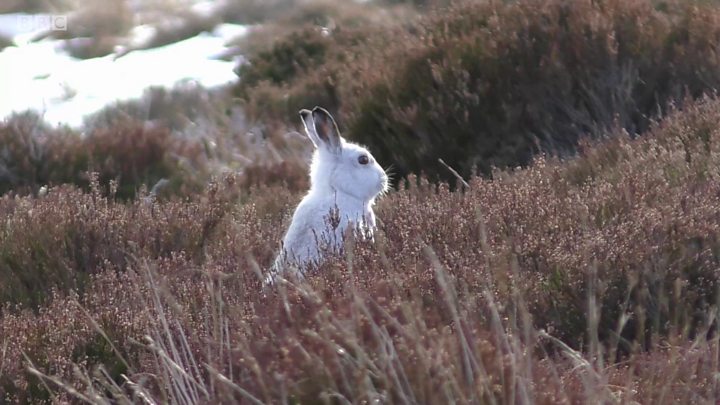 Gamekeepers have invited Nicola Sturgeon to visit their estates after she warned that video of them culling mountain hares were "not acceptable".
The first minister said she was "angry" at footage filmed by animal rights charities which showed the hares being killed on shooting estates.
And she said new legislation to protect the hares was among the options being considered.
Gamekeepers shown in the footage have now written to the Scottish government.
They have invited Ms Sturgeon and Environment Secretary Roseanna Cunningham to their estates to learn more about the rationale behind the killings.
Head gamekeeper for the Clune and Corrybrough Estates in Inverness-shire, Duncan MacKenzie, said: "We'd really like to be able to show the first minister around rather than discuss these issues in Edinburgh.
"I think it would be beneficial for everyone to get an understanding of why the hares need to be managed here."
The footage was obtained by BBC Scotland after being filmed by OneKind, League Against Cruel Sports and Lush.
It showed gamekeepers using all-terrain vehicles to access remote hillsides and shoot hares in February.
Mr MacKenzie said the people in the film were "working people being secretly filmed carrying out a legal management activity which is no different to other forms of species management and is well within the laws passed by Scottish government".
"The ironic thing is that those who are seeking the end of grouse management would also be signalling the beginning of the end for the mountain hare in Scotland, " he added.
"Populations are thriving on grouse moors but are struggling badly elsewhere due to predation and loss of their preferred heather habitat and we hope to have the opportunity to explain this in full to the first minister."
All-terrain vehicles
Mr MacKenzie said the estates were not hiding anything, adding: "We have good records of the amount of hares in comparison to the amount we have taken off the hill, covering a number of years, and there are still high numbers of hares on the ground."
Landowners can shoot the hares without a licence from August to February and claim culls are necessary to protect game, especially red grouse, from disease.
There are currently no restrictions imposed by the government on how many mountain hares are killed during the open season.
But the animal rights charities behind the footage claim it shows the agreement for voluntary restraint over culls has "failed" and along with broadcaster Chris Packham are calling for a cull ban until a review on the issue concludes.