Rennie urges voters to 'try' the Lib Dems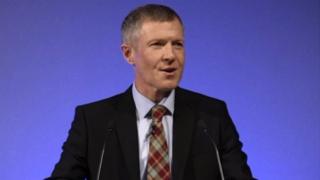 Willie Rennie has urged voters disillusioned with the other parties to "try" the Liberal Democrats.
The Scottish Lib Dem leader told its conference in Aviemore that his party was the "progressive alternative".
He said many voters wanted to move on from the "division" of Brexit and independence and were "hunting for a new hope in our country".
And he said his party was "winning again" due to its progressive, pro-EU and pro-UK stance.
The two-day event will hear from UK party leader Vince Cable on Saturday.
'Hard-left cheerleader'
Mr Rennie used his speech on Friday afternoon to claim the SNP was interested in nothing other than the timing of the next independence referendum.
And he joined Scottish Labour leader Richard Leonard in calling for Health Secretary Shona Robison to quit over the financial crisis at NHS Tayside, the shortage of GPs and what he described as "failures" in social care, A&E, waiting times and mental health.
Mr Rennie also criticised Labour for "backing Theresa May's Brexit deal no matter what the cost", and accused leader Jeremy Corbyn of being a "hard-left cheerleader" for a hard Brexit.
He accused the Conservatives of dividing the country over Brexit, and called on Scottish Tory leader Ruth Davidson to stand up for what she believes in by publicly opposing Brexit instead of "saying you want to make the best of a bad situation".
Mr Rennie said: "How bad does it have to get before you say enough is enough? If you are that influential in the Conservatives make that change, make it now, make it before it is too late."
The Liberal Democrats are the only major party to support holding a second referendum on whether the UK should leave the EU.
Mr Rennie said the party's opposition to both Brexit and independence was in tune with the majority of Scottish voters, and predicted it "can win across Scotland".
'New hope'
And he highlighted issues such as mental health, the police and nursery education as areas where the Lib Dems have "led the way" in setting the agenda for an "open, progressive Scotland".
He added: "I want to make a direct appeal to those who are hunting for new hope for our country. People who are hunting for a better way.
"If you want to move on from the division of Brexit, if you want to move on from the division of independence, because you want to keep us in the United Kingdom and a united Europe, then try the Liberal Democrats.
"If you believe that people with poor mental health deserve better treatment, if you believe that young people deserve the best start in life with a quality nursery education, because you believe that everyone deserves a chance to succeed, then try the Liberal Democrats."
The Scottish Liberal Democrats are currently the fifth party at Holyrood, but increased their number of seats at Westminster from one to four in last year's general election.