Sturgeon: Rejecting Brexit deal 'in national interest'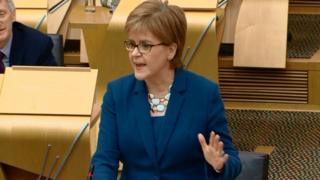 Nicola Sturgeon has insisted that rejecting a deal with the UK government over post-Brexit powers was "in the national interest".
The first minister was speaking as Scottish Conservative leader Ruth Davidson accused her of putting the "nationalist interest" first.
Westminster struck a deal with the Welsh government earlier this week.
But the Scottish government insists that changes to the UK government's Brexit bill still do not go far enough.
Ms Sturgeon told Holyrood that the amendments to the Withdrawal Bill would have "real implications" for the Scottish government's powers in a range of areas.
She said: "If we were to agree this it would allow for a period of up to seven years, for example, for the UK government to dictate new arrangements for farming support in Scotland.
"It would allow the UK government to force us perhaps to lift our ban on GM crops, which is so important to our environment and the reputation of food and drink.
"It could restrict our ability during that period to properly tackle obesity and alcohol misuse, it could force us to relax food standards regulations and perhaps open the door to US chlorinated chicken and anything else that was demanded in a trade deal."
The first minister said that no "self-respecting member of this parliament should give those proposals the time of day and this government will not do that".
And she added: "This deal is not in the national interest, that is why I won't sign up to it.
"If that means we are the only party prepared to stand up for the rights and powers of this Scottish Parliament then so be it."
Ms Davidson accused the first minister of "dancing on the head of a pin" in order to find reasons to reject a deal with the UK government.
The Scottish Conservative leader accepted that all parties at Holyrood had "expressed concerns" about the original proposals in the Withdrawal Bill, but said these concerns had now been addressed.
And she said previous Scottish government demands - including an agreement on future deals and a sunset clause - had been accepted.
Ms Davidson asked: "Isn't it the case that it doesn't suit the first minister's political purposes to make a deal, so she is dancing on the head of a pin in order to find reasons not to?
"There is a deal to be done here, the Welsh back it, other parties in this chamber back it.
"For once will you do a deal in the national interest and not your nationalist interest?"
Working together
The Scottish and Welsh governments had been working together in opposition to the Withdrawal Bill, which they had both portrayed as a "power grab" on the devolved parliaments.
But the Welsh announced on Tuesday that a "deal we can work with" had been found.
The agreement will see some powers "temporarily held by the UK government" in areas where "common UK-wide rules are needed for a functioning UK internal market".
The Scottish and UK governments have pledged to continue talking in the hope that agreement can also be reached between them, with senior figures from both sides expected to meet next week,