MP launches bid to legalise 'fix rooms'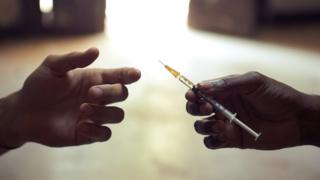 An SNP MP has launched a bid to legalise safe drug consumption rooms for addicts.
Plans to create the UK's first so-called "fix room" in Glasgow were backed by Holyrood last week.
But the Home Office says any such facility would be illegal under the UK's existing drug laws.
Alison Thewliss has now launched a Private Members' Bill in the Commons that would lift the risk of prosecution.
The Glasgow Central MP believes creating a safe consumption room would help reduce the number of people dying from drug overdoses and tackle a rise in HIV among drug users in the city.
There were 867 drugs deaths in Scotland in 2016 - a rise of 23% from the previous year - including 160 in Glasgow.
Glasgow has an estimated 13,600 problem drug users and has seen a growing number of addicts diagnosed with HIV - with 90 heroin addicts having been infected in the city in the past couple of years.
Ms Thewliss said: "My bill will take new steps to enable drug addiction to be treated as a public health issue, whilst ensuring that criminal activity from illegal drugs continues to be robustly tackled by the police.
"People are dying on the streets of my constituency, and the risk to the general public from discarded needles and transmission of blood borne diseases is very real.
"The only remaining barrier to doing something different is the Home Office's unwillingness to grant an exemption."
A recent Scottish Parliament debate on the issue saw support from the SNP, Labour, Liberal Democrats and Greens - with only the Conservatives opposed.
Glasgow City Council and the joint health and social care board also back the proposal.
The council wants to build a facility that would allow addicts to bring their own drugs to inject in 12 separate booths using hygienic equipment.
It would also provide an inhalation room and a separate area where addicts would be given access to treatment.
Similar facilities already exist in about 70 countries elsewhere in the world, although there are none in the UK.
The Scottish government's top legal adviser, the Lord Advocate, says it would be illegal in Scotland unless the UK-wide Misuse of Drugs Act is amended.
'Enforce the law'
The Home Office has previously ruled out creating drug consumption rooms or devolving drug laws to enable Scotland to do so.
It says a "range of offences" would be committed in drug consumption rooms, including possession and supply of controlled drugs and knowingly permitting the supply of a controlled drug on a premises.
And it said it would expect local police forces to "enforce the law in such circumstances".
A spokesman for the department said: "There is no legal framework for the provision of Drug Consumption Rooms in the UK and we have no plans to introduce them.
"The UK's approach on drugs remains clear - we must prevent drug use in our communities and support people dependent on drugs through treatment and recovery.
"Our Drug Strategy sets out a balanced approach which brings together police, health, community and global partners to tackle the illicit drug trade, protect the most vulnerable and help those with a drug dependency to recover and turn their lives around."