Profile: former Scottish Health Secretary Shona Robison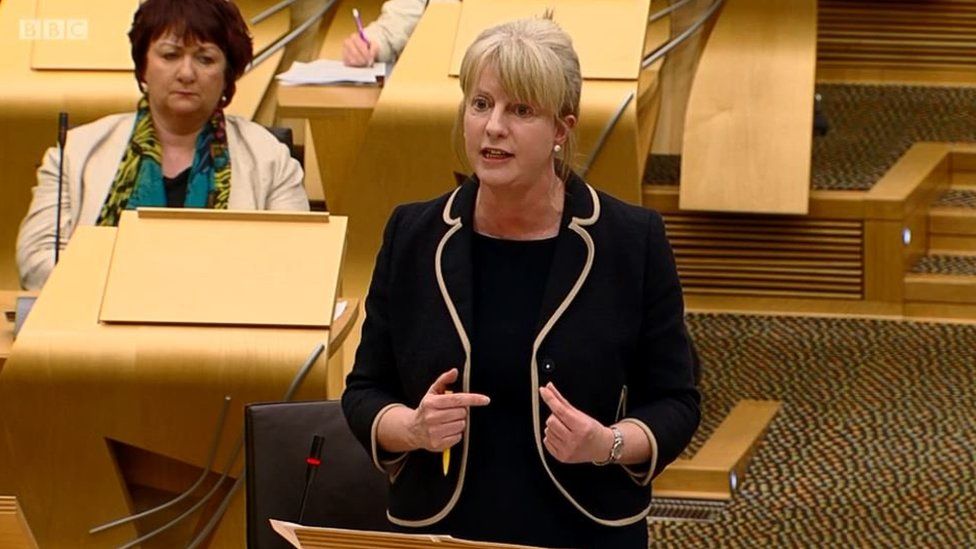 Shona Robison has quit as Scotland's health secretary after three and a half years in what she called a "very challenging" and "all-consuming" post.
In her resignation letter, the 52-year-old said her own life had also been challenging in recent times, "losing both of my parents, having a health scare of my own and some big changes in my personal life".
Those changes include a high-profile split from her partner of 20 years - SNP MP Stewart Hosie - and a new relationship.
She said she was now entering a "new chapter" of her life and wanted to "focus on those closest to me".
Born in Redcar in Yorkshire, Ms Robison went to school in Alva in Clackmannanshire before studying at Glasgow University and Jordanhill College.
She worked in Glasgow City Council's social work department before being elected an MSP, but had long been active in politics. She was part of the youth wing of the SNP alongside future cabinet colleagues Nicola Sturgeon and Fiona Hyslop.
Ms Robison has been an MSP throughout the lifetime of the Scottish Parliament, and has served as a government minister since 2007.
She was first elected as a list member for the north east Scotland region in 1999, before winning a constituency seat in Dundee East at the next election - the seat she has held ever since, increasing her majority to 10,898 votes in 2016.
When the SNP entered government in 2007, Ms Robison was appointed minister for public health, having previously been the party's health spokesperson.
She shifted to the sport brief after the 2011 election, overseeing the preparations for the Glasgow Commonwealth Games and the Ryder Cup at Gleneagles in 2014.
Ms Robison then entered the cabinet for the first time in April 2014, in a newly-created post which has been variously known under titles including equalities, social justice and communities secretary.
By the end of the year she had moved back to the health portfolio, taking on the role as health secretary under new First Minister Nicola Sturgeon.
Her tenure saw increased health spending from the budget and the NHS Scotland workforce hitting a record high, as well as the integration of health and social care.
However concerns were raised during this time about long-term planning, with the health services facing increased demand from an ageing population during a period of austerity.
Pressure on Ms Robison grew following a series of issues at the health board in her own constituency, NHS Tayside.
After it emerged that money had been taken from a charity endowment fund to plug a "funding deficit", Ms Robison demanded the resignation of the board's chairman and chief executive.
This sparked the latest in a series of questions about the health secretary's future, with Labour MSP Anas Sarwar making more than a dozen calls for her to quit.
MSPs later held a debate focusing mainly on her future, at which the SNP accepted the wording of a Conservative motion concluding that "failing sustained and immediate action, the cabinet secretary for health and sport should be held accountable for the ongoing problems".
During the debate Ms Robison had to look on as Labour and Lib Dem members called for her head, and criticised the Conservatives for not joining them in this.
Criticism was also heard from outwith politics, with the family of a man who took his own life after being refused admission to a mental health centre in Dundee also urging Ms Robison to do the "honourable thing" and resign.
Ms Sturgeon, a close friend of Ms Robison, repeatedly insisted she had full confidence in her health secretary.
As she stepped down, Ms Robison made no mention of these controversies.
She also pointed to her achievements in delivering a new GP contract and expanding healthcare training places.
And she said she was most proud of seeing the "long-fought-for" minimum price per unit of alcohol come in to law.