ScotRail confirms high-speed plan delays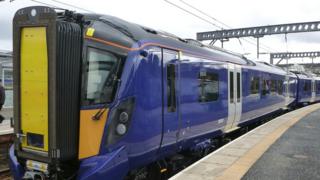 The head of ScotRail has admitted that improvement plans on two of Scotland's busiest routes are facing delays.
Alex Hynes told MSPs that not all trains on the main Glasgow to Edinburgh line will run in 42 minutes - as had been promised - until next year.
And he said refurbished trains between Aberdeen and Edinburgh could be introduced in July, rather than May.
Mr Hynes also accepted ScotRail's performance "could be better" after it was fined £1.6m over missed targets.
But he said ScotRail continued to have the highest customer satisfaction rating of any large operator in the UK.
Major renovation
The fine over missed targets related to areas such as station facilities and cleanliness rather than the punctuality and reliability of rail services.
Queen Street Station in Glasgow - which is managed by Abellio ScotRail - was recently named as the UK's least popular station in a national survey of passengers.
The station has been undergoing a major renovation which is not due to be completed until 2020.
A series of electrical and signalling faults in recent days have also caused disruption to some ScotRail services.
Mr Hynes, the rail operator's managing director, told MSPs that the current upgrading of Scotland's rail network was "not without challenge".
He told Holyrood's Rural Economy and Connectivity committee that ScotRail's goal was to introduce "the best railway Scotland has ever had", with new Hitachi high-speed trains due to be introduced on some routes in the coming months.
The trains will run on the electrified line between Edinburgh Waverley and Glasgow Queen Street as part of the Edinburgh Glasgow Improvement Programme (EGIP) that has promised to cut times for commuters.
The project, originally costed at £742m, has been hit by numerous delays.
Mr Hynes told the committee it will now be 2019 before all journeys on the line are cut by 10 minutes to 42 minutes, as ScotRail had promised.
He said that while the train operator would "like to deliver" that time from December, it "wouldn't be every service at 42 minutes" as they faced "issues" with the new trains.
And he admitted that the refurbishment of existing Intercity 125 trains on the east coast line between Edinburgh and Aberdeen had been a "challenge".
'Looking unlikely'
Mr Hynes said a delay in refitting the vehicles meant it was his "aspiration" that the first of the new trains would begin service in July, but he was "not in a position to give a firm date" for this.
"Originally we wanted to go above and beyond the contractual date of June to deliver something for the timetable change in May", he said.
"Sadly that is now looking unlikely but we're working to bring that first refurbished train as soon as we can."
Referring to the £1.6m of penalties that were imposed under the Service Quality Incentive Regime (Squire), Mr Hynes said the scheme was the "toughest regime anywhere across the UK".
It was because of that strict regime that "we have the highest satisfaction of any of the large operators in the UK", he added.
But Mr Hynes admitted: "It is fair to say our performance against the standards that are set out in this regime could be better, and we are working really hard to improve our performance in this area."
He said ScotRail had achieved a 70% reduction in so-called "skip-stopping" - the controversial practice of trains missing out some stops in order to improve punctuality - in the past four weeks.
And he said the introduction of the "iconic, high-speed" InterCity trains in the coming months would create a "a genuine intercity rail network for Scotland" and "transform the quality and the capacity of Scotland's railway".