Sturgeon: Growth commission will 'restart' independence debate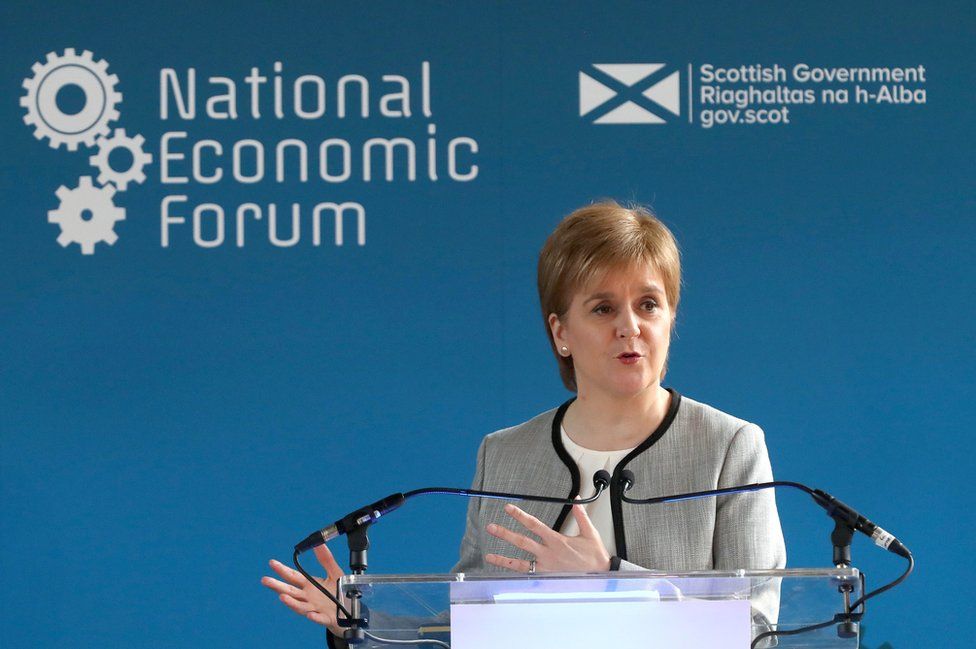 Nicola Sturgeon will "restart the debate" on Scottish independence this week as her party's economic growth commission report is published.
But the SNP leader and first minister again insisted she would only decide on whether to hold a second referendum when the Brexit deal was clearer.
The commission's findings on economic policy options for an independent Scotland are due out on Friday.
Some reports say it will back the creation of a Scottish currency.
Ms Sturgeon was pressed on the timing of a second independence referendum on ITV's Peston on Sunday.
She said: "Once we get some clarity, which hopefully we will in the autumn of this year, about the Brexit outcome and the future relationship between the UK and the EU then I will consider again this question of the timing of an independence referendum.
"I'm not going to say more about that in advance of that moment arising.
"But of course over the next couple of weeks we will, I suppose, restart a debate about why independence for Scotland is an opportunity and what those opportunities are.
"As you know we've had a growth commission looking at the economic opportunities of independence.
"Its report will be published in the coming days and I think that's quite an important moment, because if you think about the last couple of years in the UK it has been very much a debate about how we cope with the damage of Brexit.
"What I think Scotland now has the opportunity to do is look at how we seize the opportunities that lie ahead, so a debate based very much on ambition and hope not a debate that's based on despair, which is how the Brexit debate so often feels."
The growth commission, chaired by former SNP MSP Andrew Wilson, was set up in 2016 to make recommendations on monetary policy for an independent Scotland as well as the range of transitional cost and benefits.
According to the Sunday Post, its 400-page report will support the move towards a Scottish currency but argue that an independent Scotland could initially use sterling on an unofficial basis.
Some observers have suggested that the UK government's decision to rule out a currency union with an independent Scotland damaged the "Yes" campaign ahead of the 2014 referendum.
The Scottish Conservative leader Ruth Davidson said she believed Ms Sturgeon would call a second independence referendum despite "having lost the arguments during the 2014 plebiscite".
She said: "All the indicators are that she wants to press ahead and seize the shot at history that eluded her predecessor Alex Salmond.
"It is unlikely Ms Sturgeon's latest efforts will be met with enthusiasm from Scottish voters.
"People are weary after more than a decade of SNP rule, in which grievance politics have taken precedence over schools, the economy and building a sustainable health service.
"And, contrary to popular belief, Brexit has not eroded support for the UK despite a majority of Scots voting for Remain. If anything it has reminded folks that constitutional change brings insecurity and uncertainty."
Scottish Labour accused Ms Sturgeon of looking backwards, rather than embracing "real and radical change".
Its leader Richard Leonard said: "The economic and social transformation Scotland urgently needs will not come from another referendum on leaving the UK - on which the sovereign will of the Scottish people has been clearly expressed.
"It will come from radical Labour governments tackling poverty and inequality, extending public ownership and redistributing power; especially economic power from the few to the many.
"The idea that a separate Scotland would seek to use the pound without a central bank behind it is a recipe for instability and is the economics of dereliction."
In her interview on Peston, Ms Sturgeon also repeated her assertion that the SNP would not be a block to a second referendum on the terms of the Brexit deal.
But she said there was still time for the UK and Scottish governments to secure an agreement on Brexit legislation after the Scottish Parliament voted to withhold consent for the EU Withdrawal Bill.
"We've set out clearly what that would require and if the Westminster government has the will to reach an agreement then certainly it can be done," she said.