'Disappointment' over climate change target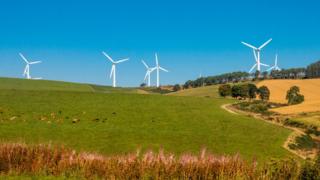 The Scottish government has stopped short of committing to a target for Scotland to become carbon-neutral by 2050.
Its draft Climate Change Bill, just published, sets a target of reducing greenhouse gas emissions by 90% by the middle of the century.
Although the bill pledges to achieve a 100% cut, no date is set for the target.
Environmental groups say ministers are missing an opportunity.
Tom Ballantine, chairman of Stop Climate Chaos Scotland, said: "It's hugely disappointing that the Scottish government has failed to live up to its own rhetoric on global climate change leadership, by failing to set a net zero emissions target in the Climate Change Bill published today.
"The government claims Scotland will be one of the first countries to achieve zero emissions, but the bill does not commit to that. It sets a target of only a 90% reduction in emissions by 2050.
"By failing to ally with the global momentum towards zero emissions, led by countries like France, Sweden and New Zealand, Scotland is missing a huge opportunity to end its contribution to climate change in a generation, attract clean investment and retain its position as a leader on the global stage."
Greens MSP Mark Ruskell said: "This is hugely disappointing and will shock the many thousands of Scots who fed into the government's consultation, calling for a net-zero target.
"This timid decision shows how weak the SNP are on the climate crisis. They're making excuses but they should be seizing the opportunity.
"Science says we need strong action now. Other countries such as New Zealand, Iceland and Sweden have already set net-zero targets in their legislation, thanks to Greens in government."
Claire Mack, chief executive of Scottish Renewables, added: "Countries around the world are looking to increase their climate change targets to deliver the ambition of the Paris Agreement, so it is right that Scotland does so too.
"While this bill continues to show Scotland's ambition, we would urge ministers and parliament to set a date for delivering net-zero emissions and to remain a world leader in the fight against climate change."
The bill increases the current emissions target, which is set at an 80% reduction by 2050.
'More demanding'
Ministers say 90% is deemed "at the limit of feasibility" by the UK Committee on Climate Change.
The legislation will commit to net-zero carbon emissions when there is sufficient evidence to demonstrate the target date is credible and achievable.
A decision on whether to set a target date will be reviewed every five years.
Environment Secretary Roseanna Cunningham said: "Our Climate Change Bill sets out our commitment to reduce emissions by 100% with ambitious interim targets which strengthen Scotland's world-leading position on climate change.
"Our 90% target will be tougher even than the 100% goal set by a handful of other countries, because our legislation will set more demanding, legally-binding, annual targets covering every sector of our economy.
"By 2030, we will cut emissions by two-thirds and, unlike other nations, we will not use carbon offsetting, where other countries are paid to cut emissions for us, to achieve our goal. "
She added: "The fight against climate change is a moral responsibility but Scotland's academic and engineering expertise, coupled with our outstanding natural resources, mean it is also an economic opportunity.
"Climate change is one of the defining challenges of our age and Scotland's international leadership means our plans must be ambitious, credible and affordable - which is exactly what the new Climate Change Bill delivers."