Momentum and timing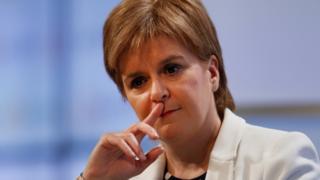 Politics is not purely about policy, not solely about hard cash. It is about momentum, mood, psychology and timing.
All of which is salient in contemplating today's publication from the SNP's Sustainable Growth Commission.
Yes, it is about addressing the gaps in the independence offer, not least on the currency which, I'm sure you remember, was to the fore during the referendum campaign in 2014.
But it is also, from the SNP's perspective, about refreshing the independence issue. Providing a base from which to evangelise anew. And, incidentally, providing activity for activists who might otherwise fret and fester.
Let us look at those gaps. Much has been made of the currency although psephologists, not least the pre-eminent Sir John Curtice, continue to insist that it wasn't necessarily a big vote loser for Yes in 2014.
Indeed, Sir John notes that support for the Yes campaign rose after the then Chancellor George Osborne jetted into Edinburgh to argue that the prospect of an independent Scotland using the pound was zero. It was seen by some, apparently, as high-handed.
However, it might be argued that the uncertainty over the currency formed part of a much wider issue. Doubt about the economy more generally, vigorously fomented and fermented by the No campaign and the UK Treasury.
As I noted at the time, the reassurance proffered by the Yes camp, most notably in the White Paper, failed to surmount those doubts.
In any event, Andrew Wilson and his commissioners set out to deal with the currency. They readily concede that there would be no formal currency union - on the basis that t'other side resolutely declines to tango.
However, Mr Wilson says that in itself cannot prevent Scotland from using the tradable currency that is sterling. And that is what he proposes.
Conceding the ground
In 2014, the Yes campaign landed in bother over the extent to which Scotland would be able to influence monetary policy in the remainder of the UK. If at all. There was much talk of Scotland being represented in some form on the Bank of England's Monetary Policy Committee.
Andrew Wilson resolves this debate by simply conceding the ground entirely. He says, bluntly, that an independent Scotland would keep the pound for at least ten years - during which the Bank of England would determine monetary policy, including interest rates, for Scotland.
Challenged on this, Mr Wilson is disarmingly unconcerned, arguing that Scotland's economy is much closer to the UK average than several English regions - and thus relatively unaffected by the issue.
Would Scotland move towards a separate currency? The report envisages that as possible and credible - but only once the economy has improved. At all points, the talk is of stability and offering as much certainty as possible.
What else has changed? The offer in the 2014 White Paper to cut corporation tax by 3% under independence has been dumped. But then that had already gone in an earlier pronouncement from the first minister.
The talk, though, is still of providing competitive business taxation. There is an emphasis on export growth. And, above all, an emphasis on attracting new skilled migrants here. The plan is a "Come to Scotland" campaign.
Might that be contentious with some? Perhaps - although Andrew Wilson notes that all the main political parties support a growth in Scotland's population.
Nicola Sturgeon is particularly evangelical on this topic, arguing that Scotland needs new skills (and tax-payers) - and that any residual disquiet must be countered.
Which brings us to two further topics - public spending and timing. The report openly notes that there will have to be spending constraint, not least to bring down Scotland's deficit.
Deficit reduction
First, a series of caveats. Today's report envisages that there would still be real terms growth in spending - but that it would be held below the growth in cash.
Secondly, supporters of independence tend to characterise the deficit as a function of the Union. They say it has arisen in circumstances where Scotland has limited economic power.
Thirdly, it is not true to say that the 2014 White Paper entirely ignored the challenges of deficit reduction. It was acknowledged then that there would be challenging times ahead.
However, today's report is markedly more robust about this facet. Which has led to contrary political reaction from Labour and the Conservatives.
The Tories say it proves what they always said - that independence would jeopardise the public purse.
Labour goes further, describing today's initiative as a Cuts Commission. (Yes, the very term used by the SNP about a policy review under Johann Lamont, the previous Scottish Labour leader.)
Labour strategists hope they will be able to prise working-class voters away from the SNP by making this argument on the doorsteps.
Loadsaluck, say the SNP. They argue it is right to be frank - but that an independent Scotland could match the growth potential of other small countries, and thrive.
And then there is timing. Today's report is completely and deliberately silent on the question of whether and when there should be another referendum.
When I interviewed her, Nicola Sturgeon declared at the outset that she would not address the issue of timing today. Indeed, when I arrived at that inevitable question, she grinned faintly in mock salutation.
Ms Sturgeon's position is still that she will not even consider the issue of an independence referendum until Brexit has arrived at a position of enhanced clarity. Which, she anticipates, will be in the autumn.
She wants, in short, to take the independence debate away from the "how" and "when" questions - and restore the issue of "why".
Looking at today's report, Nicola Sturgeon discerns palpable evidence to support her cause. Rivals find alternative interpretations.
One more thing anent timing. It is, of course, not solely or even primarily in Ms Sturgeon's hands.
Unless she sanctions a non-statutory referendum - which she does not remotely want to do - then she has to rely upon a transfer of temporary power from Westminster under Section 30 of the Scotland Act.
Ruth Davidson was asked today whether she envisaged the prime minister granting such a request now or in the near future. Friends, she did not.
More generally, though, today's report will indeed generate fresh debate about independence, if only within the SNP and the wider Yes movement.
Nicola Sturgeon hopes to draw her opponents into that debate, to draw them onto ground of her choosing.
Mostly, they seem determined to adopt a position of lofty disdain, arguing that independence and its concomitant referendum are, alike, unwanted.
Politics: rarely pure and never simple.