Scotland should be full EU member, says author of SNP report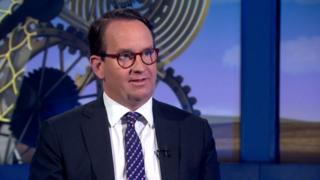 The author of the SNP's Growth Commission report has said an independent Scotland should aim to be a full member of the European Union.
Andrew Wilson said it was "in all our interests" to have free trade and movement between Scotland and Europe.
Mr Wilson's 354-page analysis document says an independent Scotland should keep the pound for at least 10 years and calls for more immigration.
Opposition parties have said it focuses too much on constitutional matters.
Mr Wilson studied 12 successful small countries around the world as examples to take lessons from.
He told BBC Scotland's Sunday Politics programme: "It's not in our brief to determine what's going to happen with Britain's very disorderly exit from the European Union and the starting point where we find ourselves.
"So, knowing that no-one knows what's going on, we decided to take a look at what we would require to do no matter the outcome we found ourselves in.
"All we've said is, it's in all of our interests to maximise frictionless free trade and the movement of people, goods and services between us and the rest of the UK, Ireland and Europe."
When asked if an independent Scotland should be a full member of the European Union, he said: "I think absolutely and emphatically so, yes."
The Scottish Conservatives' economy spokesman Dean Lockhart said staying part of the UK single market was far more important than the European Union.
He said: "The answer to Brexit, which accounts for the single market (and) 16% of Scotland's trade, is not to leave the UK single market that accounts for over 60% of our trade.
"I am confident we will get a deal with the European Union where we have substantial access to the single market and then we can go on and make global trade agreements with countries like China, India and Japan."
Scottish Labour's Jackie Baillie said the SNP plans would lead to "decades of austerity".
She said: "We have had to experience a decade of the economy stagnating, of poor productivity, of low growth whilst the SNP have been in charge.
"So I welcome his (Mr Wilson's) contribution to the debate. It presents arguments for growing the economy and any political party would aspire to do that.
"But it's not a blueprint for independence, because what we would face in order to get to, in 25 years, the batch of small countries he has picked would be decades of austerity of the kind we've not seen."