Nicola Sturgeon denies 'nationalism before NHS' claims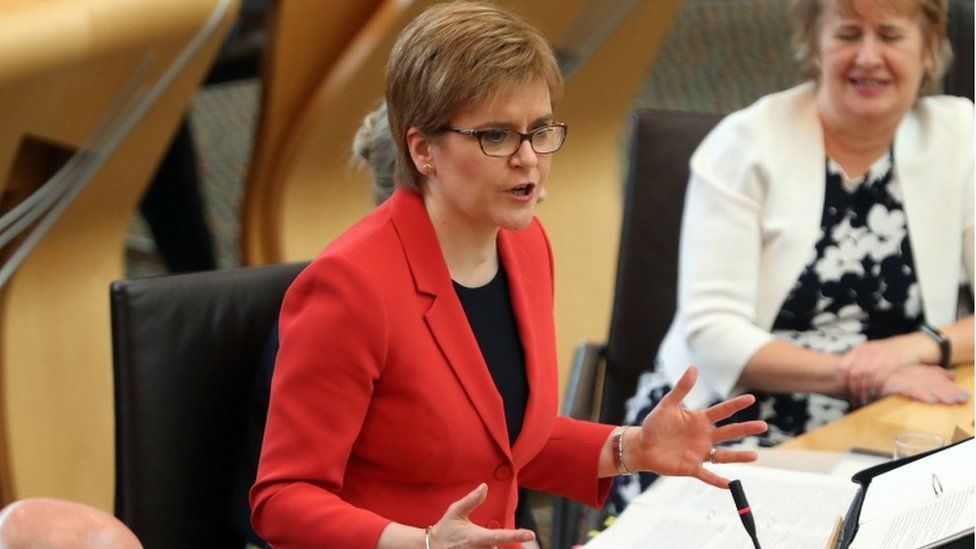 Nicola Sturgeon has dismissed claims she is "putting nationalism before the NHS" following the publication of a key SNP economic report.
The Tories claimed Ms Sturgeon's priority had been placating her own side rather than governing the country.
She responded by highlighting her government's recent achievements.
Ms Sturgeon had predicted the long-awaited Growth Commission report, which was published last week after being commissioned in the wake of the Brexit vote two years ago, would "restart the debate" on independence.
But several prominent pro-independence commentators have reacted angrily to its recommendations that an independent Scotland should keep the pound without a formal currency union, and embark on a debt reduction programme that its author insists is not the same as "austerity".
In a series of tweets on Wednesday, Ms Sturgeon said the report set out an alternative to the "Brexit spiral" offered by Westminster.
But at First Minister's Questions on Thursday, Scottish Conservative leader Ruth Davidson insisted Ms Sturgeon's prime concern had been "appeasing her own independence army".
She added: "This is in a week where we've seen rising waiting lists in hospitals, we've seen fewer young people from deprived backgrounds going to university, and we've seen violent crime on the increase.
"These are the important issues that the people of Scotland really care about.
"So why is it that the only folk getting any of the first minister's attention aren't patients, they aren't students, they aren't victims of crime, but they are her own independence supporters?"
Ms Sturgeon responded by outlining a range of government actions this week, including her discussions with inward investors, the extension of a scheme to tackle period poverty, the abolition of child burial fees, action to tackle plastic use, and funding for the Stirling and Clackmannanshire city region deal.
She added: "Ruth Davidson loves nothing more than talking about the constitution because she's got nothing else to talk about.
"She just doesn't want the positive case for independence to be heard."
Analysis by Brian Taylor, BBC Scotland political editor
The Tory leader's wheeze? She planned to list a series of issues - higher education, crime, the NHS, farming subsidies - and then triumphantly proclaim that Nicola Sturgeon was far too busy obsessing about independence to tackle them.
Snag is the FM saw it coming. Rather than wait for Ms Davidson's moment of glory, she essayed a pre-emptive strike. And, friends, it worked.
Ms Sturgeon read out a long - and I mean long - list of actions by herself and ministerial colleagues in recent days. As the list threatened to stretch out to the crack of doom, Ms Sturgeon paused and asked her opponent: "You want some more of this...?"
The Conservative leader could do nothing but tamely consent, from a sedentary position. Thus licensing the agony to continue.
Scottish Labour leader Richard Leonard highlighted the rise in patients waiting longer than the six-week target time for key diagnostic tests for conditions such as cancer.
He said that one in 13 patients waited too long when Ms Sturgeon became first minister, but the figure was now one in five.
Mr Leonard said the people of Scotland wanted Ms Sturgeon to focus on solving issues such as that rather than "promoting another divisive referendum" and "taking to Twitter to defend the decade of cuts and austerity that would come with leaving the UK."
He added: "When is the first minister going to stop putting nationalism before the National Health Service?"
Ms Sturgeon said out-patient waiting times had improved and £50m extra investment announced to help drive improvements in in-patient waits.
She also told Mr Leonard an additional £5m was being invested to support access to diagnostic tests for suspected cancer patients and health boards to ensure that where a patient is expected of having cancer they are treated within six weeks.
The Growth Commission's currency proposals would see the Bank of England continue to set interest rates and other monetary policy for at least a decade - possibly longer - before a decision was potentially taken on whether to start a separate Scottish currency.
There has also been concern from some over the report's proposals for a debt reduction programme after independence - which it insists would not be the same as "austerity".