Scottish government urged to back workplace parking tax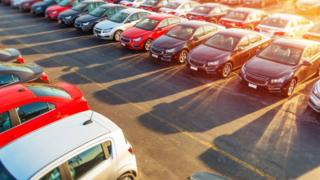 Scottish ministers have been urged to introduce parking levies on firms in a bid to cut congestion and air pollution in cities north of the border.
The government is due to set out its Transport Bill in the coming weeks.
Campaign group Transform Scotland published a paper of suggestions including non-residential parking levies and a ban on pavement parking.
Transport Scotland said the report was "useful", adding that there had been "substantial" consultation on the bill.
However, the Scottish Retail Consortium said it was "sceptical" about parking levies, saying they would be "yet another tax on firms which they can ill afford".
The legislation, expected to include a series of measures aimed at improving public transport, is expected to be tabled before Holyrood goes into recess for the summer at the end of June.
'Important opportunity'
Transform Scotland said the bill was an "important opportunity to start turning round" issues around congestion and pollution.
It called for extra levies on parking, such as workplace parking schemes which are currently available to local authorities in England, but not Scottish councils.
A scheme in Nottingham sees employers who have more than 10 parking spaces for staff paying the council £402 per space every year, with the proceeds being invested back into public transport.
The city council says its scheme has 100% compliance from eligible employers, and has raised £44m since 2012. The money has gone towards an expansion of the tram network, improvements at the city train station and upgrades to local bus services.
There were proposals to include such measures in Holyrood's first transport bill in 2000, but they were ultimately dropped by the Labour-Lib Dem coalition government.
Transform Scotland director Colin Howden said it was clear that previous legislation was "ineffective" in cutting congestion or boosting the use of public transport, calling for more to be done in the new bill.
He said: "We look forward to welcoming many of the measures expected to be included in the bill.
"However, we are keen that it be strengthened so that, unlike the earlier transport acts, this new transport bill provides effective powers to achieve a transformation in how our transport system functions."
'Clear solution'
Prof Tom Rye of Edinburgh Napier University's Transport Research Institute said the Nottingham scheme had resulted in "significant" changes in behaviour, with a shift to public transport, walking and cycling.
He said: "At a time where local authority budgets are increasingly stretched and funding for sustainable transport infrastructure is limited, parking levies offer a clear solution to fund improved transport infrastructure whilst simultaneously tackling issues with air pollution, carbon emissions and congestion."
Transform Scotland's report also endorses a ban on pavement parking, something which has been backed by MSPs in the past but which is yet to make it into law.
David Lonsdale, director of the Scottish Retail Consortium, said he would be "sceptical" about "costly new workplace parking levies", especially if they opened the door to also taxing spaces for customers.
He said: "A levy like this could well be seen as yet another tax on firms which they can ill afford, and we understand business rates are already paid on workplace parking spaces anyway."
A spokeswoman for Transport Scotland said: "The Transport (Scotland) Bill, which will be introduced before the parliamentary recess, is informed through a substantial process of public engagement and consultation where many stakeholders including Transform Scotland have previously shared their views.
"This report is another useful contribution from Transform Scotland and we hope they continue to engage in the parliamentary process following the introduction of the bill."