FMQs: Nicola Sturgeon defends her health secretary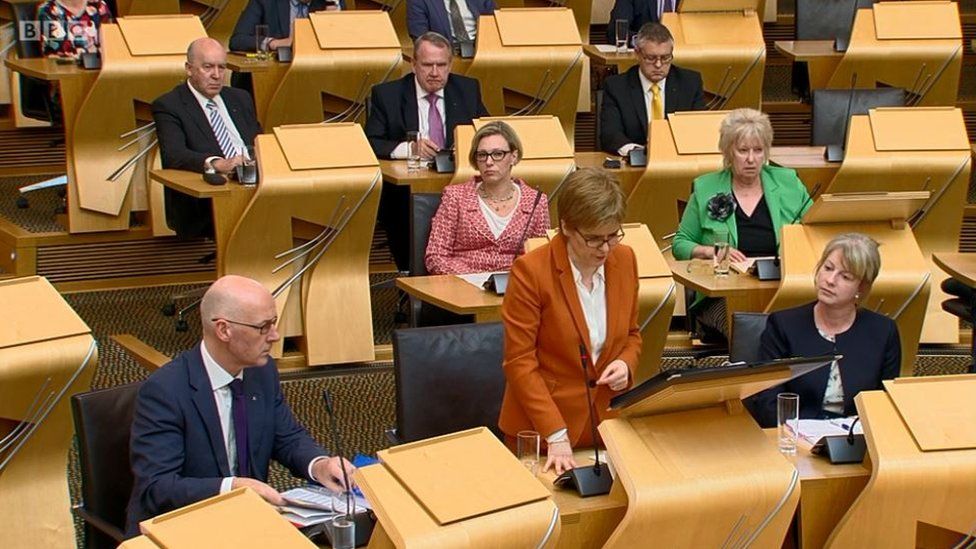 Politics and especially parliamentary politics has a tendency to develop traditions. Some are quirky and appealing. Others less so.
Scottish government ministers would undoubtedly choose the latter category for a custom which has grown exponentially in recent weeks and months.
This particular trope affects Health Secretary Shona Robison. She is obliged to sit, politely and silently, while opposition leaders demand her political execution.
Today, both Richard Leonard for Labour and Willie Rennie for the Liberal Democrats piled in. They adduced long lists of NHS statistics as evidence for their case that the last nail should be removed from the hook bearing Ms Robison's jacket.
You could just tell that they were both itching to declare: "You have sat too long here for any good you have been doing. In the name of God go!" Or they would if it did not sound just too Cromwellian - or indeed Ameryan.
Mr Rennie even said that the first minister should act over the summer - before the opposition took charge of the matter in the autumn.
What did he mean? A coalition? A coup? Presumably, he was signalling a potential vote of no confidence in the minister. Bit bold for Holyrood's smallest party but there you go.
Throughout all of this, Ms Robison continued to sit still, preserving her dignity. In truth, of course, she could do no other.
But Nicola Sturgeon was far from silent. She produced statistics of her own, designed to show areas of notable improvement in the NHS. And she deliberately personalised these, linking progress in reducing delayed discharge, for example, to Ms Robison's tenure.
In response to Mr Leonard, she accused the Labour leader of playing politics. She chose to ignore Mr Rennie's implicit threat.
There are three reasons for this, each of varying importance. One, in defending Ms Robison, Nicola Sturgeon is of course also promulgating her own government's record on the key issue of the NHS. The FM is herself a former health secretary.
Two, no leader likes to have her cabinet team chosen by the opposition. Attacking a Minister in this personal fashion tends to entrench them, at least for an interim period. Three, Shona Robison is her chum; a friendship harking back to student days.
It seems at least feasible that Ms Robison might be moved in any forthcoming reshuffle. Not least to break the question time tradition. Moved, I stress, not sacked. But the FM would want to do that in her own time and at her own behest.
Patrick Harvie of the Greens seemed to feel that the government was falling down on another key issue - education. Teachers, he said, were reluctant to advise others to enter the profession. Mr Harvie stopped short, wisely, of demanding John Swinney's job.
In response, Ms Sturgeon acknowledged that pay constraint in the profession scarcely helped. She wished success to the current round of pay talks.
And then in our end is our beginning. Ruth Davidson of the Tories opened the session by pursuing the FM rather successfully over the topic of the electronic tagging of offenders.
While other leaders had been generic in their approach, Ms Davidson was able to cite a specific case, that of James Wright who had been illegally at liberty when he murdered a father of three. It appeared that the killer had breached an earlier home detention curfew.
The exchanges followed a pattern. Ms Davidson raised this individual case, linked to general complaints that victims were being over-looked in favour of a focus upon the rights of offenders.
Patiently, Ms Sturgeon stressed again and again that she was offering no defence over the individual case. It was appalling, should not have happened and was under investigation already.
Equally patiently, she appealed for calm, mature debate over the question of custodial versus non-custodial sentences, while indicating that such matters were under review.
Ms Sturgeon noted at one point that, generally, those under non-custodial treatment tended to reoffend less than those sent to prison.
But is there definitely a causal link? Might it not be self-selecting? Might it be the case that those identified for non-custodial treatment are, by their very nature, less prone to recidivism?
Questions to ask. Answers to seek. A valuable, indeed vitally important discourse, effectively debated by the two leaders.