Judge rejects Brexit legal challenge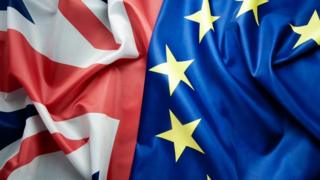 A bid to have European judges decide if the UK can unilaterally halt Brexit has been thrown out by a Scottish judge.
A group of pro-Remain politicians wanted it referred to the European Court of Justice (CJEU) for a definitive ruling.
It could have meant the UK government could withdraw Article 50 without the permission of other EU members.
At the Court of Session, Lord Boyd said the case could not be sent to Luxembourg as it was "hypothetical".
In his written judgement, he said judges did not engage in "academic or hypothetical questions".
The legal case was brought by politicians including Scottish Green MSPs Andy Wightman and Ross Greer, Labour MEPs David Martin and Catherine Stihler and SNP MEP Alyn Smith.
It was backed by the Good Law Project which said it wanted to "provide clarity about the democratic process".
They argued that the UK parliament should be able to withdraw Article 50 if MPs vote to do so, and without needing the permission of other EU members.
It would have strengthened the hand of any attempts to block Brexit after the terms of the final deal between the UK and EU are known.
This is because it would give parliament the power to halt Brexit if it feels the final deal is unacceptable - even if the government wants to leave regardless.
The government's position was that MPs would only be asked to vote on whether to accept the final exit deal, or for the country to leave the EU without a deal - there was no option to halt Brexit.
Its lawyers argued that Article 50 will therefore not be revoked, so we do not need to know the answer to the question of whether or not it can be.
'Fresh referendum'
Lord Boyd ruled against the politicians, stating that their arguments did not reflect political realities.
He wrote: "Standing the result of the referendum and the firm and consistent position which it has adopted it seems highly unlikely that this government will revoke the notification.
"Circumstances can change and political opinion may shift in favour of remaining in the EU and in consequence in favour revoking the article 50 notification.
"However, I have not been presented with any evidence that there is a real and substantial prospect of a UK government taking such a step.
"Whether such an action, were it to take place, would require a change of government, a general election, or a fresh referendum, or all three is a matter of speculation and not addressed by the petitioner.
"Nor have I been presented with any argument that members of parliament are in some way impeded from pursuing the objective of remaining in the EU or indeed of giving MPs the opportunity to vote in favour of that option by tabling of appropriate amendments to the legislation regulating withdrawal.
"In conclusion I consider that the issue is hypothetical. The issue of revocation is contingent on a set of circumstances and a change in political will."
Lord Boyd concluded: "The facts upon which the CJEU would be asked to give an answer could not at this stage be ascertained simply because they have not occurred."