Dramatic tactics grab the headlines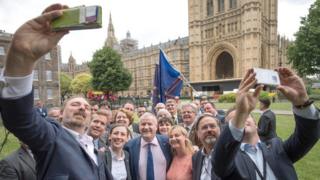 Was it a stunt? Maybe. But it was a highly effective one.
The SNPs opponents may be complaining that they deliberately manufactured their parliamentary walkout but the SNP are very happy that their dramatic tactics have propelled them up to the top of tonight's news agenda.
And they say its gaining them new supporters. One thousand new members joined the party just this afternoon.
Scotland's First Minister, Nicola Sturgeon is now hinting that this may not be the last time the SNP use dramatic tactics to try and highlight their objections to what they call the Westminster "power grab".
She told the BBC tonight it can no longer be business as usual between the Scottish and UK governments.
So what is this row all about?
The SNP are genuinely furious that the House of Commons voted last night to impose the EU withdrawal bill on Scotland. Despite the fact that the Scottish Parliament voted overwhelming to reject it last month.
It's the first time in nearly 20 years of devolution that Westminster has overruled Holyrood in this fashion.
The substance of the argument is over powers that will be returning to the UK over policy areas like farming and fisheries after we leave the EU.
The Scottish government say they should come directly to Holyrood. The UK government insists that to make sure regulations stay the same across the country some of those powers need to come first to London, before eventually being devolved to Edinburgh
The SNP accept that legally there is nothing they can do about this situation but clearly they do not intend to give up the political battle.
And although the UK government can ignore them and proceed anyway they risk creating a constitutional row that could have ongoing political consequences