BMA Scotland warns of doctors 'pushed to the brink'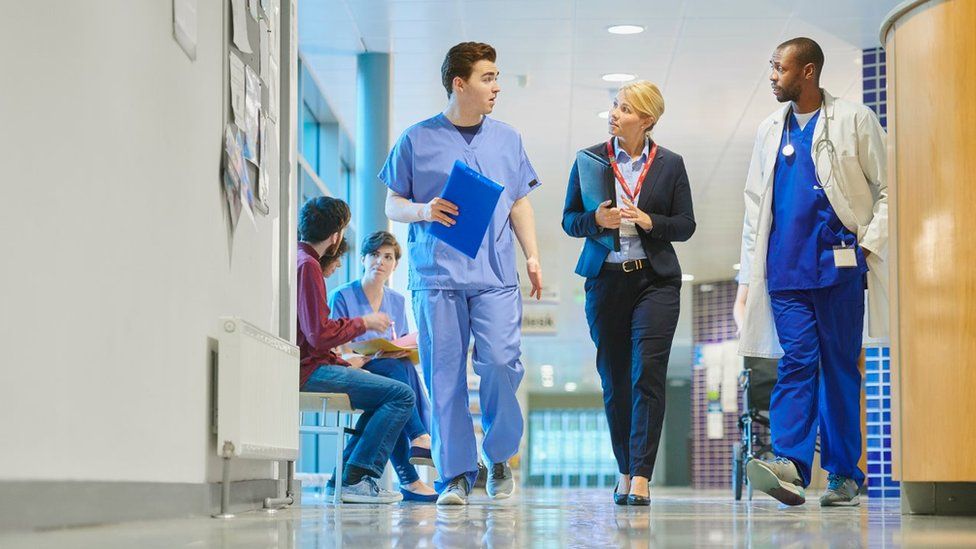 Doctors in Scotland are being "pushed to the brink" by a lack of resources and staff shortages, according to the British Medical Association.
Two thirds of doctors responding to a BMA survey said "inadequate" resources "significantly" affected the quality and safety of care provided by the NHS.
BMA Scotland chairman Dr Peter Bennie said the survey suggested the NHS was being "stretched to the very limit".
The Scottish government said it was committed to improving the NHS.
Health Secretary Shona Robison said funding was at "record high levels".
Dr Bennie is due to deliver his final speech to the BMA annual representative meeting in Brighton later before stepping down in the autumn.
It will include the main findings from a survey of 999 Scottish doctors carried out last month:
Nine out of 10 (89%) of those who responded thought staffing was inadequate for providing quality care.
About 88% agreed that without a significant budget increase, the NHS in Scotland would no longer be able to offer comprehensive care within a decade.
Seven out of 10 (71%) were of the opinion the health service in Scotland had become worse over the last year.
In his speech Dr Bennie will say the demands and pressures on doctors have been "increasing substantially year on year", while pay has been "hit in real terms" and vacancies have become harder to fill.
He is expected to say: "The survey results in Scotland demonstrate the stark reality of a profession pushed to the brink. While doctors are delivering high quality care wherever and however they possibly can, we are stretched to the limit of what we are capable of.
"This is simply not good enough, either for patients or doctors. We all want to provide the very best care we can, but we are being prevented from doing so by an under resourced and under staffed system."
Dr Bennie will say the NHS in Scotland has "not quite reached the dire working conditions and morale seen in England" however, he will warn "we are clinging by our fingertips from sliding down a similar path".
He will use his speech to welcome the fact the NHS in Scotland is not exposed to competition and privatisation, and to highlight "strong progress" in areas such as the new GP contract for Scotland.
Dr Bennie will say: "While the precise figure for the money coming to Scotland may not be known for some time, we can be sure that this alone will be insufficient to move NHS Scotland to a fully sustainable footing for the longer term.
"Investment on a greater scale is still going to be required in the years ahead, along with concerted action to tackle the issues with recruitment and retention.
"Pay and conditions must be improved to reflect the challenges and responsibilities of the job."
On Monday, Scotland's health secretary announced that the bulk of NHS staff in Scotland have been offered a 9% pay rise, spread across three years.
The offer - which would not affect doctors, dentists or senior managers - is being considered by NHS unions.
Responding to Mr Bennie's speech, Ms Robison said: "Our NHS faces the welcome challenge of meeting the changing needs of the people of Scotland, with people living longer and driving rising demand.
"Our investment has taken NHS funding to record high levels, and we continue to push the UK government to deliver a net benefit to Scotland's budget following their recent NHS funding announcement."
She said the Scottish government was committed to "investment and reform", and highlighted the 9% pay offer.
She added: "We will continue to work alongside NHS staff to improve services and provide the high level of care patients expect."
Conservative health spokesman Miles Briggs said doctors had "put up with more than a decade of SNP mismanagement, and worked exceptionally hard to keep problems at bay".
Anas Sarwar, Scottish Labour's health spokesman highlighted his party's NHS workforce commission which aims "to find solutions to the SNP's workforce crisis in our health service".
Scottish Liberal Democrat health spokesman Alex Cole-Hamilton said NHS staff "are fed up with government inaction".
Alison Johnstone, for the Scottish Greens, said Dr Bennie was "right that Scotland must aim higher than comparing our NHS with that south of the border".
Related Internet Links
The BBC is not responsible for the content of external sites.