Flagship Scottish education bill shelved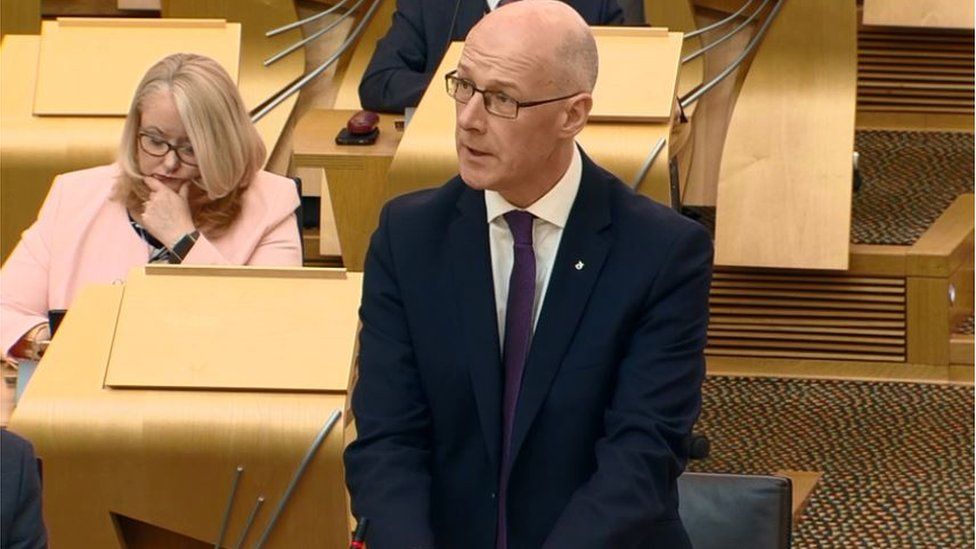 The Scottish government has shelved its flagship Education Bill after claiming key reforms can be introduced more quickly without changing the law.
Nicola Sturgeon previously said the bill would be the most radical change to how schools are run since devolution.
But it faced opposition from teaching unions and some opposition parties.
Some of the proposals will now be introduced through an agreement with councils instead.
The deal with local authority body Cosla includes proposals to give head teachers more say over the curriculum, budgets and staff recruitment at their schools.
But plans to disband the General Teaching Council for Scotland governing body and set up a new Education Workforce Council in its place have been ditched.
Education Secretary John Swinney said the agreement meant reforms could be "fast-tracked" as there would be no need to wait 18 months for the Education Bill to be passed by the Scottish Parliament.
He said the bill could still be introduced if "sufficient progress" is not made over the next year, but admitted there had been dissent over it and that discussions had been ongoing with councils for several months.
Cosla said it was pleased its concerns had been listened to, while the EIS teaching union said "pausing" the legislation would "grant Scottish education the breathing space that teachers have been asking for".
But opposition parties accused Mr Swinney of a "complete shambles of a u-turn" over the bill and said he was now "trying to avoid parliament altogether by sneaking watered-down changes through by other means".
The agreement between the government and Cosla sets out a number of principles, which will now be introduced voluntarily rather than through changing the law.
These principles include:
Schools should be empowered to make the decisions that most affect outcomes for students
The principle of empowering head teachers will be applied consistently across Scotland
Councils will be able to intervene if head teachers breach statutory, financial or contractual obligations
Mr Swinney said the government's "focus on relentless improvement" had already seen progress being made towards closing the attainment gap between the country's wealthiest and most-deprived pupils.
And he insisted that the "landmark agreement" with local councils "creates the opportunity to fast-track education reforms - giving schools and teachers more control, more quickly than could be achieved through legislation."
He added: "I am confident that this approach, one that builds consensus and fosters collaboration, is the right approach for Scotland."
The announcement the legislation was being put on hold came after the government's own expert body, the International Council of Education Advisers, urged it to "keep any legislative interventions to a minimum".
The move was announced as Mr Swinney confirmed £46m of funding over three years to support education reforms.
The education bill had been opposed by Labour, the Greens and Liberal Democrats, who questioned whether new legislation was needed, although the Conservatives were broadly supportive.
The head of the Scottish Secondary Teachers' Association (SSTA) recently argued that head teachers were already struggling to cope with the demands placed on them, and said proposals to give them more responsibilities should be ditched.
What has been the political reaction?
The Scottish Conservatives claimed the bill had been put on ice because "Nicola Sturgeon won't allow her party to work with the Scottish Conservatives, so schools are made to suffer".
The party's education spokeswoman Liz Smith added: "This could have been the best chance in a generation to make improvements to schools, handing real power to head teachers to improve literacy and numeracy. Instead, the plans have been dumped.
"That's the SNP in a nutshell: they care more about their own party political games than they do about Scotland's schools.
"Parents, teachers and young people will wonder what on earth is going on. It is a shambles."
Labour education spokesman Iain Gray said the only thing being fast-tracked by Mr Swinney was the "mother of all ministerial climbdowns".
And Ross Greer of the Scottish Greens said Mr Swinney had been "humiliated" by his proposals being "rejected by teachers, parents and opposition parties".
Mr Greer added: "He's now trying to avoid parliament altogether by sneaking watered-down changes through by other means."