Tommy Sheridan's path from politics to being a humanist celebrant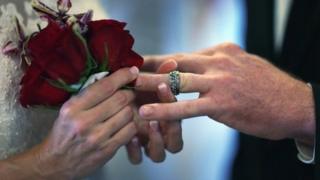 Former MSP Tommy Sheridan is training to become a humanist celebrant. What is behind his change of career, and why are more and more people choosing these non-religious ceremonies?
"And now, my friends, we move to the naming ceremony itself..."
The voice is familiar; the setting less so.
Tommy Sheridan, former MSP, Scottish Socialist Party and Solidarity convener - not making a political speech, but presiding over a humanist naming ceremony for "Julian", the baby of "Jack and Jane".
This wasn't a real service - yet. But it soon could be, with Mr Sheridan auditioning to be fully accredited as a humanist celebrant.
He has presided over a number of funerals, including his father's, and says "at least eight couples" have already asked him to renew their vows.
And the socialist firebrand isn't the first to make the seemingly unusual move, with TV presenter Carol Smillie becoming a humanist celebrant earlier in 2018.
Mr Sheridan told BBC Scotland's Stephen Jardine programme that the move had grown out of his occasional role presiding over funerals.
He said: "Over the last few years I was asked to do some funeral services on behalf of usually old socialists but sometimes just friends or family - over a year ago I did my father's as well.
"When I was conducting those funerals I had so many people saying to me, listen Tommy, you did that very well, you were very empathetic but also got some laughs in and made a difficult process easier for people, you really should do that properly.
"I thought about it, and the truth is that I'd hate to only do funerals. Bringing some joy to an occasion that doesn't really have much joy in it is difficult, and I think could be draining. I'd love to mix that with the naming ceremonies, with the wedding celebrations, because that's definitely two things that are full of joy.
"So I decided to actually formally try and become a humanist celebrant, because more and more people want that type of service, they want the service to be about the person or people involved in the service."
---
What is humanism?
Humanism is a democratic and ethical life stance, which affirms that human beings have the right and responsibility to give meaning and shape to their own lives.
It stands for the building of a more humane society through an ethic based on human and other natural values in the spirit of reason and free inquiry through human capabilities.
It is not theistic, and it does not accept supernatural views of reality.
International Humanist and Ethical Union
---
These alternative ceremonies have gone from strength to strength since Scotland's first legally-recognised humanist wedding took place at Edinburgh Zoo in 2005.
In fact they are fast going from being alternative to being the norm. Within five years, humanist weddings had overtaken Roman Catholic ones in popularity, and within ten they overhauled the Church of Scotland.
These figures tally with Scotland's movement towards being a more secular society. Several studies have shown that the majority of Scots now identify as being non-religious, paving the way for more events taking place outside of a church or a registrar's office.
Mr Sheridan's own wedding took place in a church - he said that on that day as throughout their marriage, his wife Gail "wore the trousers".
It was a "beautiful service" and a "fantastic day", so the former politician understands why some people do want to have a religious ceremony.
He said: "Humanism and being a humanist isn't in competition with faith-based organisations in the sense that we're better than anyone else.
"You've got to have tolerance of why people have certain faiths and why they want their occasions to be faith based."
'Empathy and compassion'
So how does being a former MSP help you work as a celebrant?
Mr Sheridan, who served at Holyrood for eight years, said his public speaking experience was only one part of what his past experience brings to the job.
He said: "I do think having to speak up in front of an audience and speak to people, most of whom you'll have never met before, can be very daunting. Not everyone is equipped to do that, but I think that's only the first step.
"You also have to have empathy for your fellow human beings. Humanism is all about empathy and compassion for your fellow human beings. If you don't have that then you can be the best speaker in the world, but you won't connect with your audience."
In addition to his political career, Mr Sheridan was involved in a high-profile legal battle with News Group newspapers, and served a year in prison for perjury. He's also hosted his own radio show, and has degrees in politics, social research and law.
Is he concerned that he might become something of a "celebrity booking" when people are looking for a celebrant?
He said: "I think people will be more concerned to get someone that they think they can connect with, who they think is able to conduct the service well.
"Its alright being well known, but if you're well known and you can't do the bloody job it's no much use. From that point of view I think what's important is that you can do the job.
"You've got to remember, we get trained, we get mentored, we get monitored. It's just not something where you're thrown into the water and expected to swim, you're actually given proper training - it's a very formal process."
The BBC also heard from two other celebrants - Lucy Black, a mother of four, and Les Gray, a former chief inspector with Strathclyde Police.
Mrs Black said the job was "about giving something back", and is "very fulfilling".
She said: "You've got to have a respect for others, you've got to have a faith in humanity, and you have to realise that this is about the couple, it's not about ourselves.
"We're doing a fulfilling role, and it feels great for us to do this, with job satisfaction, but you have to ensure that you're there first and foremost for that couple or that family, for the wedding or the naming day or the funeral.
"You have to be able to adapt how you address these folk and make sure that they're given the choices and that it's all very dignified."
'So enjoyable'
Mr Gray - who was conducting a ceremony at Edinburgh Zoo on Monday - said he would always "really get a buzz" out of the work.
He said: "I spent 32 years in the police service dealing with some people in humanity who perhaps weren't the best people you ever came across, and dealing with people who always wanted to fight with you or attack you or whatever.
"It was a bit of a no-brainer for me, because it's just so enlightening and so, so enjoyable. I say to people all the time, I absolutely love doing it - I love meeting different people."
Mr Gray saw Mr Sheridan speak at a Police Federation conference, and said he would make a "absolutely fantastic" celebrant.
The view appears to be widely shared. The first comment under Mr Sheridan's online audition video reads: "If you can do the ceremony, I'm going to get married."