MPs' backing for Brexit plan 'highly questionable' - Sturgeon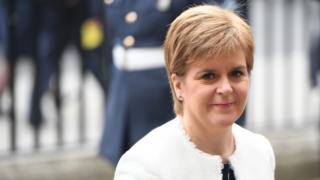 It is "highly questionable" whether Theresa May's Brexit plan could win the support of MPs, Scottish First Minister Nicola Sturgeon has said.
The prime minister set out her strategy for leaving the EU on Monday despite two of her top ministers resigning.
She has warned her Conservative party that it must unite behind a compromise position or risk a "disorderly" Brexit.
But Ms Sturgeon said the only approach which could win the backing of MPs was full membership of the single market.
Mrs May's new-look cabinet met at Downing Street on Tuesday in the wake of high-profile resignations over the Brexit strategy drawn up at Chequers last Friday.
Jeremy Hunt has been installed as foreign secretary after Boris Johnson quit, while Dominic Raab has taken the place of David Davis as Brexit secretary.
MPs have been promised a "meaningful" vote on the final Brexit deal negotiated with European leaders, and Brexiteer Tories have raised concerns about the vision agreed by Mrs May's cabinet.
The prime minister has warned her Conservative party that it must unite behind the "responsible and credible" plan agreed by her cabinet, or risk the UK leaving the EU in March 2019 in a "disorderly" manner.
Ms Sturgeon told BBC Radio Four's Today programme that Mrs May's plan was unlikely to win the backing of MPs, urging her to embrace single market membership instead.
She said: "I described it at the weekend as a step forward in the sense that there appears to be more realism in it than we've heard from UK government to date, although that's not really saying much to be honest.
"But we don't yet know whether it's acceptable to the EU, it still seems to be cherry-picking, trying to divide the four freedoms, it looks horrendously complicated, and it excludes services - which make up almost 80% of the Scottish economy."
She added: "If you look at the arithmetic in the House of Commons first of all, before we think about the position across the country, I'm convinced there's no majority for no deal. I think after the events of the last 24 hours or so, its highly questionable whether there's a majority for the Chequers plan as it stands.
"I think the only thing that actually stands a realistic chance of commanding a majority in the House of Commons as well as being the right thing for the interests of the economy is single market and customs union membership."
'We are leaving'
Ms Sturgeon said the plan was "a step forward" from where the cabinet had previously been, but said it was "nowhere near good enough" to protect the economy.
She added: "I'm not going to have my party vote for something that would be more damaging than necessary to the Scottish economy".
Addressing MPs on Monday, the prime minister was asked if she would back single market membership - and gave an "absolute, unequivocal no".
She said: "We are leaving the single market and we are leaving the customs union."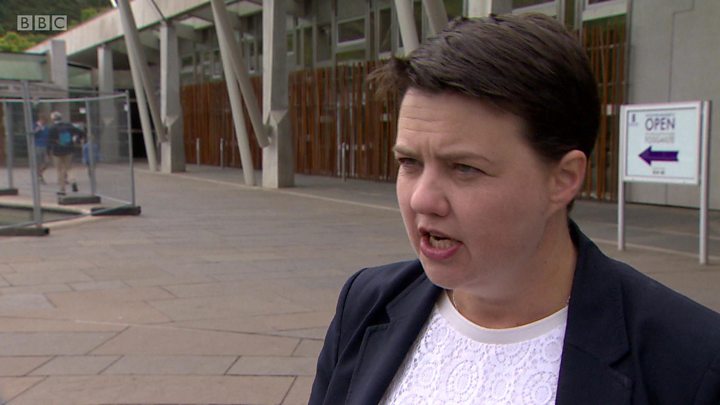 Amid speculation about a leadership challenge, the prime minister has been backed by Scottish Conservative leader Ruth Davidson - who welcomed the resignations of Mr Johnson and Mr Davis.
Ms Davidson told BBC Scotland that the SNP would ultimately face a choice between Mrs May's plan or a "no deal" Brexit, which would see the UK revert to World Trade Organisation rules.
She said: "I'd urge everyone to get behind the PM and get behind the plan. It's right that the UK government speaks with one voice as we go into this next important phase of the Brexit negotiations, and any minister who feels they can't support that is right to leave government.
"What I think is on the table is a compromise deal that has free trade, frictionless trade for goods from Scotland, it takes us out of the Common Fisheries Policy, which the SNP would take us straight back into, and also stops us having a border in the Irish Sea.
"The other option is to fall out with a no deal Brexit, which I don't think is good for anyone.
"So the SNP have a very big decision to make - do they back this compromise agreement, or do they back a no deal Brexit? I'm not sure they're going to like who they'll walk through the corridors with to back no deal."
Chequers plan
Mrs May's proposal would see the UK sign a treaty committing it to "continued harmonisation" with EU rules, thus avoiding friction at the UK-EU border in Ireland. A "common rulebook" would be agreed with the EU for trading in goods, but not services.
However, parliament would oversee the UK's trade policy, and freedom of movement would come to an end - with a "mobility framework" ensuring UK and EU citizens could continue to study and work in each other's territories.
Mr Johnson was scathing about the proposal in his resignation letter, saying the Brexit "dream is dying, suffocated by needless self-doubt". He said the UK was "heading for a semi-Brexit, with large parts of the UK still locked in the EU system, but with no UK control over that system".
This has been echoed by other Brexiteer Tories including Aberdeen South MP Ross Thomson, who said he feared the UK could be left a "vassal state" after Brexit.
Mrs May insisted that the plan would "honour the result of the referendum" and allow the UK to "take back control of our borders, our law and our money".