David Mundell 'to greet Donald Trump' in Scotland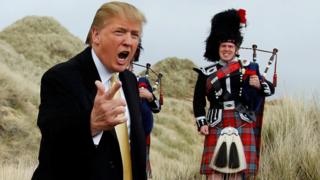 Scottish Secretary David Mundell is expected to welcome Donald Trump when the US president arrives in Scotland on Friday, the BBC understands.
President Trump is due to head north for the weekend following talks with the Queen and prime minister.
It is widely expected that he will play golf at the Turnberry resort in South Ayrshire, which he bought in 2014.
Protests are planned in several cities, with ministers urging those taking part to stay "safe and peaceful".
The UK government, which has yet to confirm the plan, said it was right that a welcome was extended to "the duly elected president of our closest ally".
The president, who is currently in Brussels for a summit with Nato leaders, will head to the UK on Thursday. He is scheduled to meet the Queen at Windsor Castle and have dinner with Prime Minister Theresa May at Blenheim Palace.
BBC Scotland understands Mr Mundell has been lined up to provide the official welcome to Scotland when Mr Trump and his wife Melania arrive on Friday, ahead of a weekend of golf at Turnberry.
First Minister Nicola Sturgeon is not currently expected to meet him.
Opposition parties have called on ministers to bar Mr Trump from using Prestwick Airport - which is owned by the Scottish government - as a "travel ban" protesting against the president's immigration policies.
Mr Trump, whose mother was born on the Scottish island of Lewis, has been a regular visitor to his "ancestral home" and owns golf courses in South Ayrshire and Aberdeenshire.
His last trip to the UK - his first foreign engagement as the Republican candidate for the presidency - came on the day after the EU referendum in 2016. Some minor protests were held at the time, but far larger events are anticipated now that he is in office.
Police Scotland has been drawing up plans for a "significant policing operation, involving thousands of officers and specialist resources", with rallies planned in Glasgow, Edinburgh and Aberdeen.
'Politics of hate'
Some Scottish politicians have warned that Mr Trump will not be afforded a warm welcome, and urged ministers to steer clear of him while he is in Scotland.
Scottish Labour leader Richard Leonard said First Minister Nicola Sturgeon should "make clear she will not meet with Donald Trump", saying that to do so would be "an effective endorsement of his politics of hate".
Green co-convener Patrick Harvie said ministers should "show those in the US who are threatened and marginalised by the Trump regime that we stand in solidarity with them".
The two politicians issued a joint statement calling on Ms Sturgeon to "rule out any use of Prestwick by the president or his entourage", saying: "For Donald Trump to travel to Scotland with public assistance and ease when his travel ban has caused outrage and despair around the world would simply not be acceptable."
And Lib Dem MP Christine Jardine said that "the vast majority of Scots" opposed President Trump's "divisive and hateful views on immigration, family unification, LGBT rights, human rights, and pretty much everything else".
At Westminster, SNP group leader Ian Blackford urged Cabinet Office minister David Lidington not to "roll out the red carpet" for Mr Trump.
He said: "With protests planned across Scotland and the UK against President Trump's abhorrent policies and dangerous rhetoric, will the minister follow the SNP's lead and challenge President Trump on his abysmal record on human rights, his repugnant attitude towards women and his disgusting treatment of minorities?"
Mr Lidington - filling in at prime minister's questions while Theresa May attends the Nato summit - replied that it was right for the government to welcome the president.
He said: "This country's relationship with the US is probably the closest between any two democracies in the west. It has lasted through Democrat and Republican presidents alike, and Labour and Conservative governments on this side of the Atlantic.
"Because of the security cooperation we have with the US, there are UK citizens who are alive today who might well not have been had that cooperation and information sharing not taken place. It is therefore right that we welcome the duly elected president of our closest ally, as we shall do tomorrow."