'Trump Baby' balloon banned from Turnberry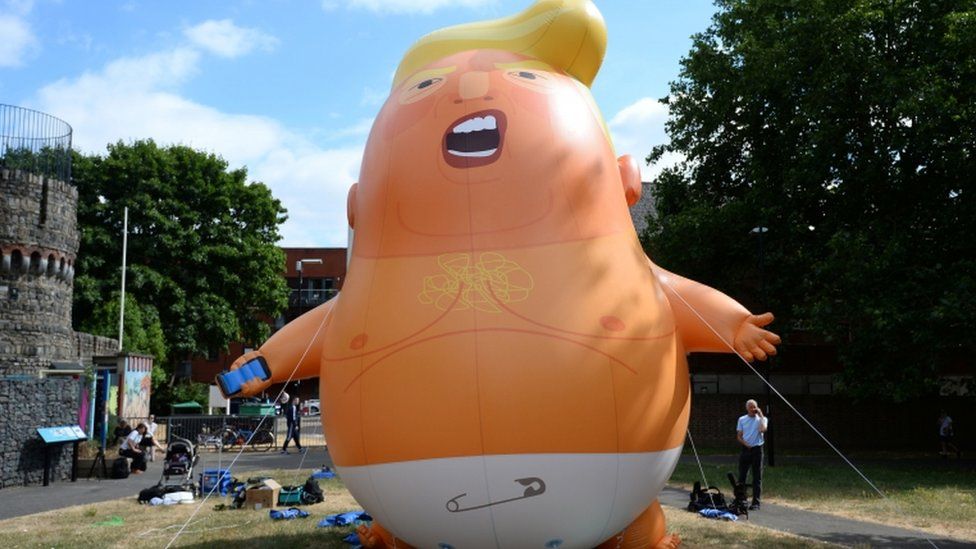 A giant balloon depicting Donald Trump as a baby will not be allowed to fly over his Turnberry golf course, police have said.
The Trump Baby balloon has already been given permission to fly over central London during the US president's visit to the UK.
But Police Scotland refused a request for the 6m (20ft) high balloon to also take to the skies over the golf course.
Mr Trump is expected to play at Turnberry on Saturday.
Police said the blimp would not be allowed at the course as an air exclusion zone was in place during the president's visit.
But they said they would be happy to discuss other options for the balloon - leaving open the possibility that it could be flown at one of the other protests against Mr Trump's visit which are being held elsewhere in Scotland.
Assistant Chief Constable Mark Williams said: "Clearly there is a significant protection operation in place for the president and this includes restrictions to the airspace in the Turnberry area.
"We need to ensure there is a balance between protection and public safety and the public's right to peacefully protest.
"With that in mind and on this occasion we are unable to grant permission for the balloon to fly in that area, however we are in discussion with the applicants about possible alternatives."
London mayor Sadiq Khan gave permission for the Trump Baby, which depicts the president as an angry infant wearing a nappy, to fly above Parliament Square after campaigners raised £16,000 to pay for it.
Thousands of people signed a petition urging police and Scottish ministers to grant similar permission for Turnberry.
Protestors said they will still transport the balloon to Scotland overnight, and will fly it elsewhere on Saturday.
Matthew Butcher, an anti-Trump campaigner and one of the "babysitters" of the balloon, said: "I think that the thing that the Trump balloon does is that it brings an element of fun to the protests, but it also gets under Donald Trump's very thin skin."
He said the stunt aims to "hold up a mirror" to Mr Trump's "toddler-like politics".
The US president arrived at London Stansted Airport shortly before 14:00 on Thursday, and is due to meet Prime Minister Theresa May and the Queen over the next two days.
Mr Trump - whose mother was from the Isle of Lewis - is due to touch down in Scotland on Friday night before spending the weekend at the famous South Ayrshire course, which he bought in 2014.
First Minister Nicola Sturgeon has in the past been an outspoken critic of Mr Trump, with a Scottish government spokesman saying there are no official meetings planned between the two leaders.
Mr Trump said earlier this week that the UK is in "turmoil" and "it is up to the people" whether Mrs May stays as prime minister after Boris Johnson and David Davis quit the cabinet over her Brexit policy.
Speaking ahead of his trip, the president described Turnberry as "magical" and "one of my favourite places", adding: "My mother was born in Scotland and I have great friendships over there".
He went on to say: "There might be protests, but I believe that the people in the UK, Scotland, Ireland, I think those people, they like me a lot.
"And they agree with me on immigration - that's why you have Brexit in the first place, because of immigration."
Mr Trump's son, Eric, arrived in Aberdeen earlier on Thursday to play at the nearby Menie golf course, which is also owned by the family.
The president is not currently scheduled to visit Aberdeenshire, but Eric Trump hinted that a trip to Menie could still be added to his father's itinerary at the last minute.
He said: "It's still to be decided. I'm certainly going to Turnberry and I'll see him there. I know he loves the east coast, he loves this property more than maybe anywhere else in the world, so I certainly hope he can get out here."
BBC Scotland revealed earlier on Thursday that the Menie course has "partially destroyed" the specially protected site it was built on, according to a report by Scottish Natural Heritage.
The first of a series of protests over the president's visit was held outside Trump Turnberry on Wednesday, with a small group of activists from Stand Up to Racism Scotland (SUTR) brandishing banners with the slogans "Trump not welcome" and "No to racism, no to Trump".
A large protest against the president will be held in Glasgow's George Square on Friday, with a rally also being held outside the president's Balmedie course in Aberdeenshire on Saturday. Further demonstrations are also expected at Turnberry.
A national demonstration planned at the Scottish Parliament in Edinburgh on Saturday has been given final approval by the city council, and a "Carnival of Resistance" will also be held in the Meadows area of the capital.