Scottish Labour leader urged to speak out on anti-Semitism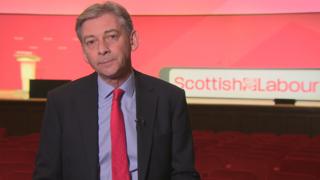 Scottish Labour leader Richard Leonard is facing calls to speak out on anti-Semitism.
Conservative politicians, from constituencies containing Scotland's largest Jewish population, want him to clarify his position on the anti-Semitism row in the UK Labour party.
The controversy centres on the party's definition of anti-Jewish abuse.
Scottish Labour said Mr Leonard has zero tolerance for anti-Semitism and any other form of racism.
Last week the Labour party adopted the majority of the International Holocaust's Remembrance Alliance's (IHRA) guidelines on the issue, but did not accept some examples relating to Israel.
Now, Conservatives Paul Masterton MP and Jackson Carlaw MSP have written to Mr Leonard urging him to publicly support the IHRA definiton.
Mr Masterton is the MP for East Renfrewshire and Mr Carlaw represents Eastwood.
The letter states: "As elected members representing constituencies with Scotland's largest Jewish population, we are alarmed at the ongoing developments in the UK Labour Party regarding its attitude to anti-Semitism, and the concerns this is causing within the Jewish community.
"Many of our constituents have openly questioned whether it would be safe for them to remain in the United Kingdom were your party ever to form a government under Jeremy Corbyn."
They claimed Labour had decided to reject the IHRA definition of anti-semitism, adding: "Your complete silence on this issue is so disappointing. Do you refuse to speak out because you support the stance taken by the National Executive Committee?
'Full confidence'
"Or perhaps it is your wish not to waver in any way in your support of your Leader, Jeremy Corbyn, that has prevented you from doing the right thing and demanding the IHRA definition be adopted in full?
"We very much hope we have misinterpreted your silence, and would warmly welcome an immediate statement confirming your unambiguous support for the IHRA definition of anti-Semitism."
A Scottish Labour spokesman said: "Richard Leonard has been very clear throughout his time as leader of Scottish Labour that he has zero tolerance of, and that there is no room for, anti-Semitism or any other form of racism in the party.
"However, to clear up Paul Masterton and Jackson Carlaw's misunderstanding, Labour's National Executive committee did not reject the IHRA definition of anti-Semitism, the code of conduct adopts the IHRA definition and expands on and contextualises its examples to produce robust, legally-0sound guidelines that a political party can apply to disciplinary cases.
"The Labour Party is continuing to consult with Jewish groups, organisations and rabbis to ensure the code of conduct has the full confidence of the Jewish community."