How do tests for P1 pupils work?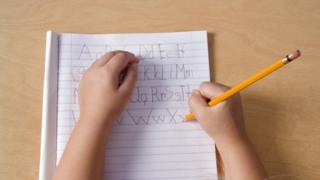 Scotland's largest teaching union is calling for national assessments for P1 pupils to be scrapped.
The assessments were introduced last year to gauge children's numeracy and literacy skills, but have been opposed by some teachers and politicians.
The EIS believes the tests are inappropriate and has warned of a boycott if matters do not improve.
The Scottish government says the tests are appropriate for five-year-olds and should be enjoyable for children.
BBC Scotland education correspondent Jamie McIvor answers some common questions on the assessments.
What is actually happening?
Primary 1 children have their literacy and numeracy assessed. The assessment is carried out through a multiple choice computer exercise which is designed to be appropriate for a five-year-old.
The same assessment takes place in every state school in Scotland but schools and teachers have the freedom to decide when to do them. They do not take place under exam conditions and should be carried out in an informal and relaxed way. Often the P1 teacher will carry out the assessment with each child individually.
Assessments also take place in P4, P7 and S3.
The Scottish government says the assessments help to identify children's progress, providing diagnostic information to support teachers' professional judgement.
Children and young people do not have to revise or prepare for these assessments. The assessments are designed to be as inclusive as possible to accommodate the needs of children and young people who require additional support.
Some opponents have highlighted claims children have been left distressed.
Are they tests?
It depends what you mean by a test. The government has stressed all along that the P1 assessments are not "high stakes testing". A child's performance in the assessment has no direct consequences for them - the child does not pass or fail the test and the results are not used to set or stream them although teachers may find diagnostic information useful.
The fundamental purpose for the assessment is to gather benchmark data on the literacy and numeracy of children by the time they start their formal education - children from disadvantaged backgrounds can be around 18 months behind their peers from better off backgrounds. By carrying out assessments in P1 it's possible to get a sense of the point children have reached before schools or teachers could have made a difference.
The assessments are marked automatically so teachers can get immediate feedback.
But surely it must be stressful for small children?
If the assessments are actually being carried out in the way the government wants, this would seem unlikely. They are meant to be carried out informally and not under anything which remotely look like exam conditions.
Teachers can carry out the P1 assessments at any point in the school year and can carry them out individually. Ideally, the government says, they should be enjoyable for the children. Children do not need to prepare or revise.
The assessments normally take about 45 minutes but there is no time limit.
However, it's been claimed that some children have found them distressing.
If this is happening, given how the assessments are supposed to be designed and carried out, it is worth asking why. For instance, has an adult transmitted their fears or concerns about the assessments onto the child?
Could the the distress actually be a sign of some issue in the child's academic or emotional development? Was good practice not being observed? Or was it wrong to put that individual child through the process?
The parents' organisation Connect says some children were told by teachers they were going to get "a test". Inevitably this language may have added to a child's nerves - or even created them. It also cited cases where children didn't know the person who was carrying out the assessment - again this may have made it seem more nerve-wracking than it should have been.
Even some teachers who are sceptical about the value of the assessments or opposed to them in principle have told BBC Scotland that they were surprised and saddened to hear that P1 children had actually found them distressing.
But are all teachers and schools following the guidelines?
The guidelines are just that - guidance.
Some teachers may believe that spending 20 or 30 hours or so carrying out the assessments individually may not be the best use of their time so could be putting the children through in groups.
Why are some in the profession opposed to them?
There are a number of reasons - some practical, some principled.
Some teachers, in general, believe testing should be kept to a minimum and other methods to assess an individual child's performance and development are more helpful. They would be concerned about actually testing a child as young as five.
Some may also be worried that the time being used to assess children could be used more productively or see practical challenges - for instance with the availability of computer equipment.
The government has taken steps to ease concerns that the data from the assessments could be turned into league tables by newspapers and used as a narrow measure of a school's performance. However, some in the profession are still nervous this could happen.
The flexibility over the timing of the assessments was also designed to ease worries that they could be a burden on teachers but there are questions over whether some councils or individual schools are actually being more prescriptive.
Are parents told their children are being tested?
Schools do not have to seek a parent's consent before the assessments take place.
However, if a parent is in regular touch with their child's school, the topic may be brought up in conversation informally.
It would also seem like good practice to explain to parents - perhaps through information in a school handbook - what assessments their child will be going through and give them a chance to ask questions or raise concerns.
In a survey conducted by Connect - formerly called the Scottish Parent Teacher Council - 70% of the 364 parents who chose to take part said they did not know in advance that their child would be taking part, and 92% said they were not told they could ask for their child not to take part.
Executive director Eileen Prior said she was "very concerned" about the way the tests were being implemented, calling them "simply not appropriate".
She added: "Technology does not seem to be available for children to take the assessment in their own classrooms as a matter of course. Some parents report in the survey that this has been upsetting and confusing for their child.
"Not only are the tests for P1s flying in the face of Curriculum for Excellence principles, they are simply not appropriate.
"Research shows that children at this age should be learning through play. The SNSA tests continue the formalisation of the early level curriculum to the detriment of many. This was a view regularly expressed by teachers and head teachers who responded to another survey amongst professionals carried out on behalf of Connect."
Can I withdraw my children from the assessments?
Parents are not asked to give their consent before children take part in tests - as with much in education there is "presumed consent".
Schools do not have a legal requirement to put every single child through the assessment.
Guidance from the government released through Freedom of Information says the assessments are not mandated but the expectation is that all children will take part except in exceptional circumstances, for instance where a child has complex learning needs.
It is understood that there have been no cases yet where a child has been asked to take part by a school against the express wishes of a parent.
Any parent with concerns about the assessments should seek to discuss the issue with their child's school at the earliest opportunity.